Adam Basanta (CA)
curtain (White)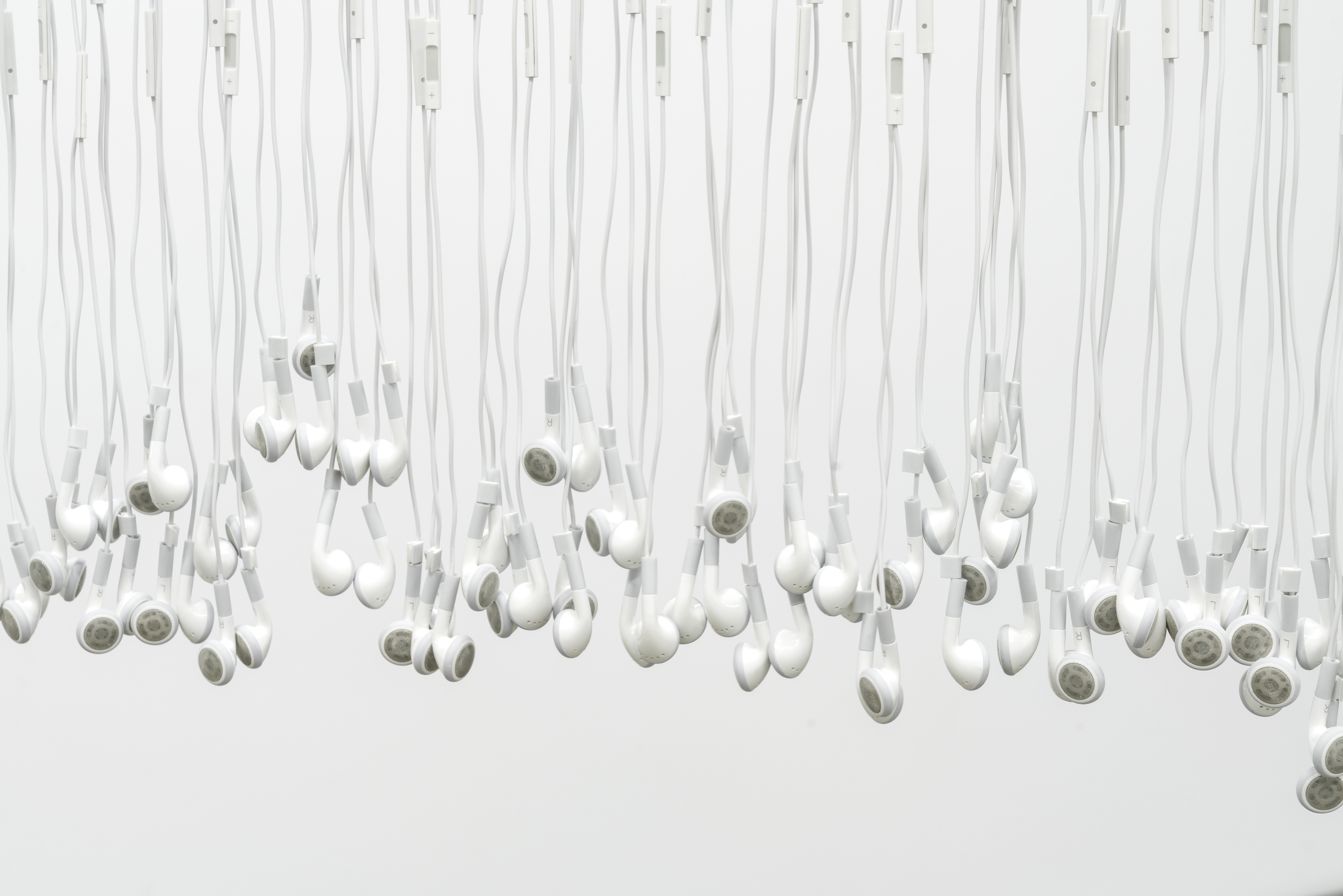 © Guy L'Heureux
avec Le Bon Accueil Lieu d'arts sonores (Rennes)
Du mercredi 9 au dimanche 20 mai
15h-19h
Des écouteurs blancs créent un environnement sonore intérieur dans lequel chacun peut se réfugier pour échapper au monde extérieur. Cette bulle sonore est permise par ces écouteurs qui signifient « ne pas déranger ». Ils forment un rideau visuel et sonore de trois mètres de long dans l'espace de la galerie. Des motifs sonores pour masquer d'autres sons et inciter au sommeil, car en dépit d'une production synthétique, ces sons évoquent des éléments naturels tels que l'océan, le vent, la pluie ou des insectes.
« Je cherche à rendre perceptible toutes les facettes inexplorées de l'expérience de l'écoute, à l'intersection du conceptuel et du sensible. J'utilise exclusivement des appareils dédiés au son vendus dans le commerce. Détournant leurs fonctions techniques et économiques, ils sont transformés en sculptures sonores. Reconfigurant ces objets, je crée des espaces de contemplation sonore dans lesquels l'acte d'écouter, la technologie et le son interagissent en permanence. »
Adam Basanta est un musicien expérimental établi à Montréal. Ses installations sonores ont été présentées récemment en Amérique du Nord et en Europe en galeries et institutions incluant Carroll/Fletcher Gallery (Londres), National Art Centre à Tokyo, American Medium Gallery à New York, Serralves Museum à Porto, Edith-Russ-Haus fur Medienkunst à Oldenburg, Vitra Design Museum à Weil am Rhein, Gallery B-312, Fonderie Darling et BIAN 2014 à Montréal, The Center for Contemporary Arts à Santa Fe. Il a reçu le prix Ars Electronica 2013 (catégorie Hybrid Art), le prix Edith-Russ-Haus en 2014 (Emerging Media Artists) et le prix Excellence en 2015 au Japan Media Arts Festival…
Ce projet a reçu une bourse d'aide du Canada Council for the Arts et de la fondation Agosto.
With Le Bon Accueil – sound art space (Rennes) 
The ubiquitous white earbud headphone creates an interior sonic environment into which one can retreat from the external world. Within this personalized sonic bubble, the headphones function as a visual "do not disturb" sign. Curtain (white) plays on this notion by creating a 3m long "curtain" which sections the gallery space visually and sonically. Patterns of white noise – a sound which masks surrounding sounds, often used in "sleep machines" – sweep across the curtain. Despite the synthetic production techniques, the sound mass evokes organic memories of waves, wind, rain, and insects. Curtain (white) was made possible by financial support from the Canada Council for the Arts and The Agosto Foundation.
« My work investigates listening and communication practices as active, participatory, multi-sensory performances which are distributed throughout a variety of human, material and technological agencies. By interrogating points of intersection between sensorial and conceptual dimensions of technological communication, I aim to draw the viewers awareness towards undiscovered facets of their own experience. I employ various commercial technologies as my main sculptural vocabulary. Through disruption of their ostensible technical and economic functions, these objects are transformed into sculptural centerpieces. By using and subtlety upsetting their conventional functions, I aim to reveal their material agencies as contemporary prosthetics. Arranging these readymade objects into reconfigured scenarios, I create spaces in which the interplay between viewer and mass produced sonic communication technologies can be re- imagined. » Adam Basanta
Adam Basanta (b. 1985) is an independent artist, composer, and performer of experimental music. Born in Tel-Aviv (ISR) and raised in Vancouver (CAN), he currently lives and works in Montreal (CAN). His installation and sculptural works have been recently exhibited in galleries and institutions including Carroll/ Fletcher Gallery (UK), Fotomuseum Winterthur (CH), National Art Centre Tokyo (JPN), American Medium Gallery (NYC), New Media Gallery (CAN), V Moscow Biennale for Young Art (RUS), Serralves Museum (POR), Edith-Russ-Haus fur Mediakunst (GER), Villa Brandolini (ITA), Vitra Design Museum (GER), York Art Gallery (UK), and The Center for Contemporary Arts Santa Fe (USA). His sound installations have been awarded several prestigious international prizes, and have been positively reviewed in publications such as Artforum, Hyperallergic, ETC Media, Neural magazine, Blackflash magazine, Musicworks, Creator's Project, The New York Times, and the Wall Street Journal. He is currently represented by Ellephant Gallery (Montreal, CAN). His experimental concert music has been presented worldwide, including appearances in the MATA Festival (NYC), Gaudeamus Musicweek (NL), CTM Festival (GER), Akousma Festival (CAN), and Mutek Festival (CAN), and have been awarded multiple national and international prizes. His music has been released on Kohlenstoff Records (Montreal), Farmacia901 (Italy), Important Records/Cassauna (USA), and Tsuko-Boshi (FR).
Galerie IGDA 2.0 (8)