bérénice serra (fr)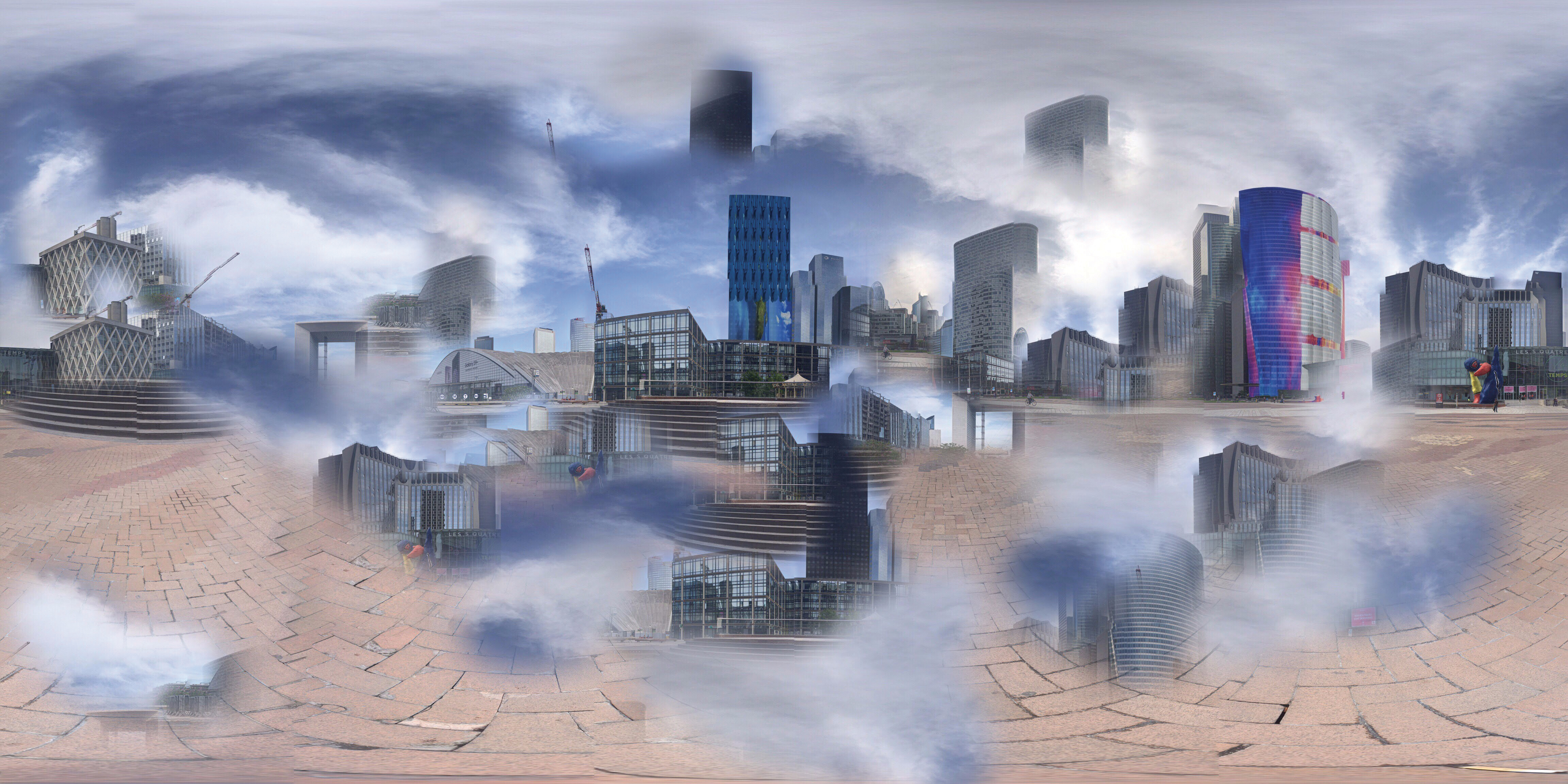 © Marion Balac
résidence
Du vendredi 26 avril au dimanche 12 mai 2019
de 15h à 19h sauf les lundi
Résidence est une exposition collaborative infiltrée dans l'application Google Street View. En 2015, Google met au point et propose une application gratuite permettant de profiter du service « Street View », tout en rendant possible la prise de vues 360° et leur publication, non pas par ses employés, mais par les utilisateurs mêmes de l'application. Toute personne ayant donc téléchargé l'application peut alors constituer une capture 360° et la rendre publique.
Une profonde transformation de l'espace et de la vie sociale découle alors de ces nouvelles pratiques. Et de ce changement, l'art n'est nullement épargné. En effet, parmi les images prises par les dispositifs de Google ainsi que celles publiées par les utilisateurs de la plateforme, on retrouve des vues immersives comprenant des œuvres d'art, présentes de fait dans l'espace public. Or puisque ces images sont capturées par les utilisateurs, la responsabilité de l'entreprise vis-à-vis du droit d'auteur est dégagée.
Résidence propose un premier pas dans le but d'une réappropriation des enjeux plastiques impliqués dans cette configuration particulière de l'espace public et de l'espace social. Profitant des conditions que Google a été obligées d'assumer pour la survie de son service, le projet consiste à proposer un protocole collectif pour occuper l'espace ouvert par le service
« Street View » comme un lieu d'hébergement d'un art conçu spécifiquement pour reconquérir cet espace. Six artistes sont invités à se saisir de cette procédure comme autant de résidences artistiques d'un type nouveau, se confondant avec l'occupation d'un espace artistique original.
Sont mis à disposition du public :
– des casques qui permettent de voir les projets en immersion 360°
– un catalogue en consultation
– un « mode d'emploi » pour participer à la résidence
– le descriptif du projet
– un QR code qui renvoie au site internet
Artiste pluridisciplinaire, Bérénice Serra donne forme à la fois à des objets, des performances, des installations et des éditions imprimées ou numériques.
Ses pièces sont souvent le résultat d'une exploration des multiples dimensions sensibles qui déterminent l'expérience et la compréhension de l'espace. Elle cherche plus précisément à dessiner des possibilités nouvelles à partir des gestes et autres investissements corporels impliqués dans les différents outils de représentation, de figuration et de normalisation des espaces physiques et virtuels.
Bérénice Serra rejoint, en 2014, le bureau de création de l'architecte Didier Fiuza Faustino. Depuis 2015, elle enseigne en qualité d'artiste intervenante à l'Université Jean Monnet, à Saint-Étienne, auprès des élèves du Master Édition d'Art et Livre d'artiste. Depuis 2018, Bérénice Serra est professeur à l'école supérieure d'arts & médias de Caen/Cherbourg.
Un projet de Bérénice Serra avec Marion Balac, Mathieu Tremblin, Raphaël Fabre, Julien Toulze et Arzhel Prioul.
www.berenice-serra.com/residence
---
Residence is a collaborative exhibition infiltrated into the Google Street View application. In 2015, Google is developing and offering a free application to take advantage of the « Street View » service, while making it possible for employees to take 360° shots and publish them, not by their employees, but by the application's users themselves. Anyone who has downloaded the application can then constitute a 360° capture and make it public, on the application.
A profound transformation of space and social life ensues from these new practices. And art is not spared from this change. Indeed, among the images taken by Google's devices as well as those published by users of the platform, there are immersive views including works of art, which are actually present in the public space. However, since these images are captured by users, the company's responsibility with regard to copyright is released.
Résidence proposes a first step towards reappropriating the plastic issues involved in this particular configuration of public and social space. Taking advantage of the conditions that Google has been forced to assume for the survival of its service, the project consists in proposing a collective protocol, to occupy the space opened by the service
« Street View » as a place to host an art designed specifically to reclaim this space. Six artists are invited to take advantage of this procedure as so many artistic residencies of a new type, merging with the occupation of an original artistic space.
Is made available to the public:
– helmets that allow you to see projects in 360° immersion
– a print run of the catalogue
– a « instructions for use » to participate in the residency
– the project description which is printed and glued to the wall
– a QR code that refers to the website
A multidisciplinary artist, Bérénice Serra shapes objects, performances, installations and printed or digital editions.
His pieces are often the result of an exploration of the multiple sensitive dimensions that determine the experience and understanding of space. More precisely, they seek to draw new possibilities from the gestures and other tangible investments involved in the various tools of representation, figuration and standardization of physical and virtual spaces.
In 2014, Bérénice Serra joined the design office of architect Didier Fiuza Faustino. Since 2015, she has been teaching as an artist at the Université Jean Monnet in Saint-Étienne, where she teaches students of the Master's degree in Art Publishing and Artist's Book. Since 2018, Bérénice Serra has been an artist, publisher and teacher at the école supérieure d'arts & médias de Caen/Cherbourg.
Credits
By Bérénice Serra with Marion Balac, Mathieu Tremblin, Raphaël Fabre, Julien Toulze and Arzhel Prioul.
www.berenice-serra.com/residence
Territoires pionniers - maison de l'architecture - normandie (5)