nicolas bernier (ca)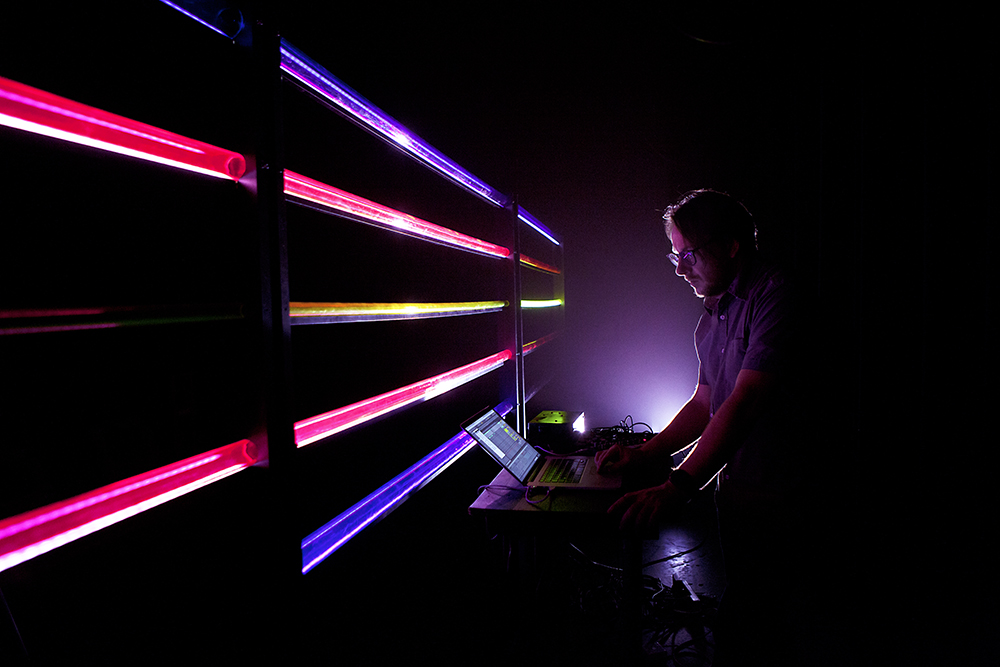 © Caroline Campeau
transfert (299 792 458 m/s)
jeudi 9 mai
19h30
transfert (299 792 458 m/s) est marqué par une esthétique colorée s'opposant au minimalisme épurée des frequencies, son précédent cycle d'œuvres. Loin de l'immaculé blanc de la science, c'est plutôt dans la science-fiction que cette œuvre nous plonge. Soutenue par de multiples couches de synthétiseurs, la pièce évoque les ambiances cinématographiques de la science-fiction des années 80. Sur scène, un dispositif de néons aux couleurs fluorescentes s'anime à la vitesse de la lumière pour créer une œuvre où les rayons forment une métaphore des voyages (couloirs) spatio-temporels tout autant qu'un intriguant panneau de contrôle de vaisseau spatial, telle une scène hyperbolique et artificielle de science-fiction.
Nicolas Bernier (né à Ottawa en 1977) crée des performances, des installations, des musiques concrètes, du live électronique, des improvisations bruitistes et de l'art vidéo tout en multipliant les collaborations avec la danse, le théâtre, l'image en mouvement et l'interdisciplinarité. Au sein de cet éclectisme demeure une constante : la recherche d'un équilibre entre cérébralité et sensualité ainsi qu'entre matières organiques et traitements numériques.
Il a reçu le Golden Nica au Prix Ars Electronica 2013 (Linz) et son travail a été montré à Sónar (Barcelone), MUTEK (Montréal), DotMov Festival (Tokyo), ZKM (Karlsruhe), Transmediale (Berlin). Ses compositions sont éditées sur des labels tels que Crónica (Porto), LINE (Los Angeles), leerraum (Berne) et Home Normal (Tokyo).
Titulaire d'un doctorat à l'Université de Huddersfield (R-U), il enseigne au département des musiques numériques de l'Université de Montréal. Il est membre de Perte de signal, centre de production, de recherche et de développement de projets en arts numériques.
Crédits
Direction artistique, programmation, design et musique : Nicolas Bernier
Assistance technique : Pipo Pierre-Louis
Production : Nicolas Bernier, 2017
---
transfert (299 792 458 m/s) is marking a shift from Nicolas Bernier's previous conceptual and rather minimalist series, frequencies. From the white scientific background, Bernier is now taking a turn towards science fiction and the oversweet 80s pop culture. The piece is driven by loads layered synthesizers recalling sci-fi soundtracks that are animating coloured neons at the speed of light. Somewhere between the spacetime travel light beams or the spaceship control panels and corridors, the 3 scenographic structures are moved by the artist, altering the perception of light and space. transfert (299 792 458 m/s) is a hyperbolic, artificial science fiction scene.
Nicolas Bernier (born in Ottawa in 1977) creates audiovisual performances and installations aiming to carve a dialogue between sound and tangible matter. Shaped by his work within the fields of cinema, literature, dance and theatre companies, his own language blend together elements of music, photography, design, science, video art, architecture, light design and scenography. In the midst of this eclecticism, his artistic concerns remain constant: the balance between the cerebral and the sensual, and between organic sources and digital processing.
Awardee of the prestigious Golden Nica at Prix Ars Electronica 2013 (Linz), his work widely recognize, presented all over the world: Sónar (Barcelona), Mutek (Montreal), Elektra (Montreal), ZKM (Karlsruhe), Transmediale (Berlin) and LABoral (Gijon) to name a few. His sound compositions are widely published on electronic music labels: Crónica (Porto), LINE (Los Angeles), leerraum (Berne) and Home Normal (Tokyo).
He holds a PhD in sonic arts from the University of Huddersfield (UK). He is a member of Perte de signal. He is teaching in the Digital Music program of the Université de Montréal.
Credits
Art direction, design and sound composition: Nicolas Bernier
Technical assistance: Pipo Pierre-Louis
Production: Nicolas Bernier
CENTRE CHORÉGRAPHIQUE NATIONAL DE CAEN EN NORMANDIE (10)