studio neura (fr)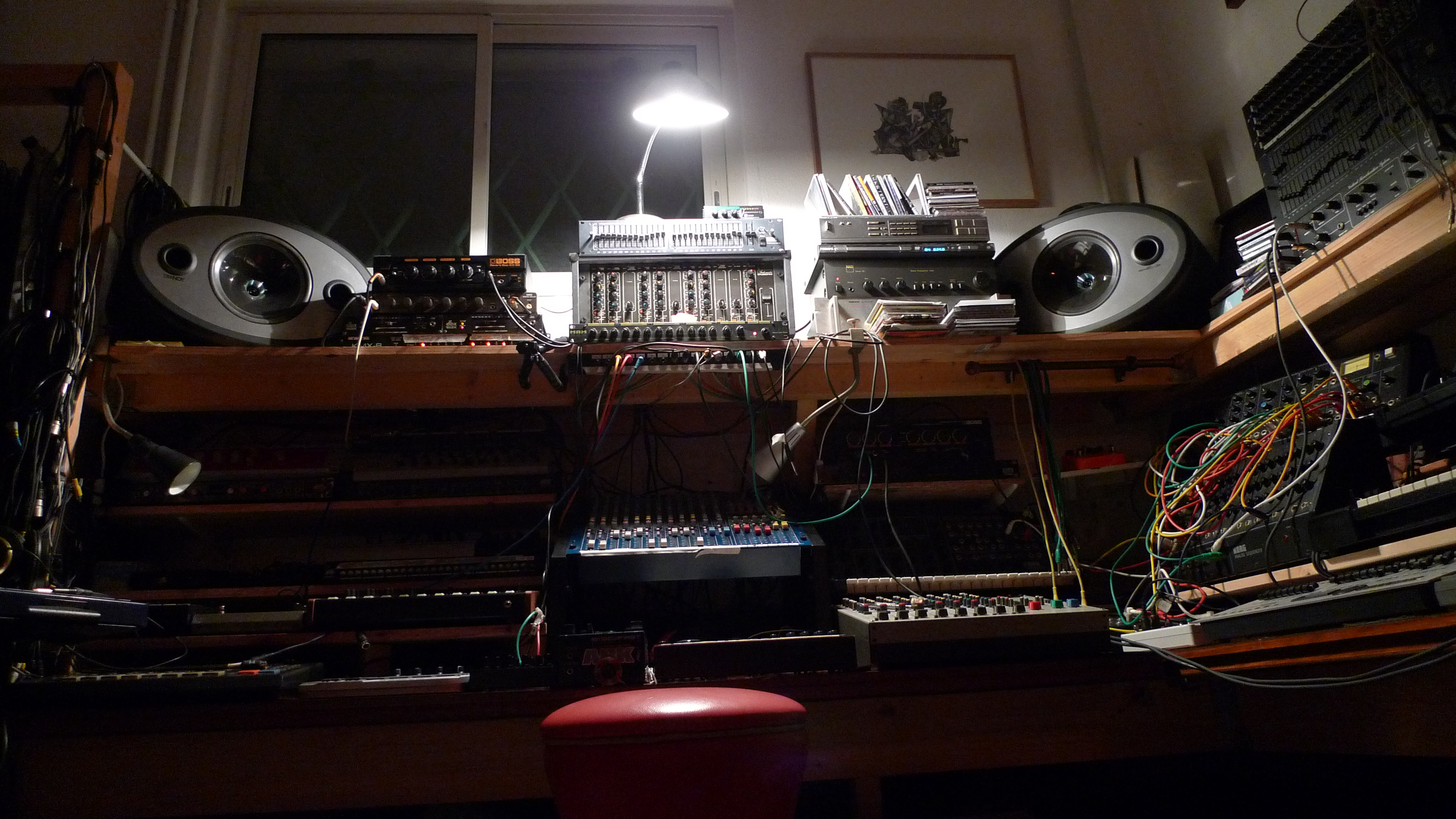 carte blanche
Du vendredi 26 avril au 12 dimanche mai
de 15h à 19h
Le Studio Neura prend ses quartiers sur le toit du Dôme pour un temps de création long et inédit tant dans sa forme que dans sa durée. Pensé comme un atelier collectif de création, le dispositif permet les croisements et les rencontres autour de multiples pratiques sonores.
Cet atelier sonore se présente autant comme une résidence permanente et un espace d'initiation que comme une installation immersive à visiter dont la scénographie confiée au collectif Manœuvre met en scène à la fois le processus de création et un environnement spécifique ouvert aux publics.
En mouvement par la multiplicité des interventions et la mobilité de ses pôles instrumentaux, le studio devient un instrument sonore grandeur nature.
Le Studio Neura est un studio indépendant caennais, spécialisé dans les musiques électroniques, créé en 2014 par Yann Fontbonne et l'association Les Bruits Sons Ardents. Il réunit un nombre important d'instruments d'époques et d'écoles différentes, dans le but de permettre à plusieurs personnes de jouer, composer, mixer et masteriser en live, dans un même geste musical. La complémentarité, la couleur sonore et l'ergonomie de ces instruments ont guidé leur agencement en différents pôles complémentaires.
avec :
Yann Fontbonne
Juste Oreilles / Ingénieur Neura
Erwan Normand
Holasisi / Technicien Neura
Emmanuel Gourot
Sichuan / Résident
Théo Stomp & Kévin Goldthwait
Comformance / Résidents
Emilie Gillet
Mutable Instrument
Lutherie électronique
Matthieu et Laurent
(Marseille Electronique – à préciser) / Lutherie électronique
Samedi 4 Mai
15h-19h
Rencontre avec ] des luthiers d'instruments électroniques [
Emilie Gillet – Mutable Instruments
Mathieu Semman et Laurent Helaili – SLIC (Slic Lightweigth Interface for Creators)
20h-22h
Sortie de résidence – écoute et live
Studio Modulaire de l'ESAM et section Interfaculty de la Royal Academy of Art de La Haye
Samedi 11 Mai
20h-00h
Sortie de résidence – écoute et live
Emmanuel Gourot – Sichuan
Théo Stomp et Kévin Goldthwait – Conformance
Staff Neura – Juste Oreilles, Holasisi, Two Tone, Circuit Tordu
Dimanche 12 Mai
15h-19h
Rencontre avec ] les champs de recherches sur les musiques et le cerveau [
Hervé Platel / Université Caen / Neuro psychologie perception musicale
---
Studio Neura takes up residence on the roof of the Dome for a long and unprecedented period of creation, both in its form and its duration. Designed as a collective creative workshop, the system allows crossovers and encounters around multiple sound practices.
This sound workshop is presented as much as a permanent residence and an initiation space as an immersive installation to visit, whose scenography entrusted to the Manœuvre collective stages both the creative process and a specific environment open to the public.
In movement through the multiplicity of interventions and the mobility of its instrumental poles, the studio becomes a life-size sound instrument.
Studio Neura is an independent studio in Caen, specialising in electronic music, created in 2014 by Yann Fontbonne and the association Les Bruits Sons Ardents. It brings together a large number of instruments from different periods and schools, with the aim of allowing several people to play, compose, mix and master live, in the same musical gesture. The complementarity, sound colour and ergonomics of these instruments have guided their arrangement into different complementary poles.
Saturday May 4th
3pm-7pm
Meeting with] electronic instrument makers [
Emilie Gillet – Mutable Instruments
Mathieu Semman and Laurent Helaili – SLIC (Slic Lightweigth Interface for Creators)
8pm-10pm2h
Exit from residence – listen and live
ESAM Modular Studio and Interfaculty Section of the Royal Academy of Art in The Hague
Saturday May 11th
20:00h00h
Exit from residence – listen and live
Emmanuel Gourot – Sichuan
Théo Stomp and Kévin Goldthwait – Performance
Staff Neura – Just Ears, Holasisi, Two Tone, Twisted Circuit
Sunday May 12th
3pm-7pm
Meeting with] the fields of research on music and the brain [
Hervé Platel / Caen University / Neuro psychology musical perception
LE DÔME (2)