David Guez
6 Stèles Binaires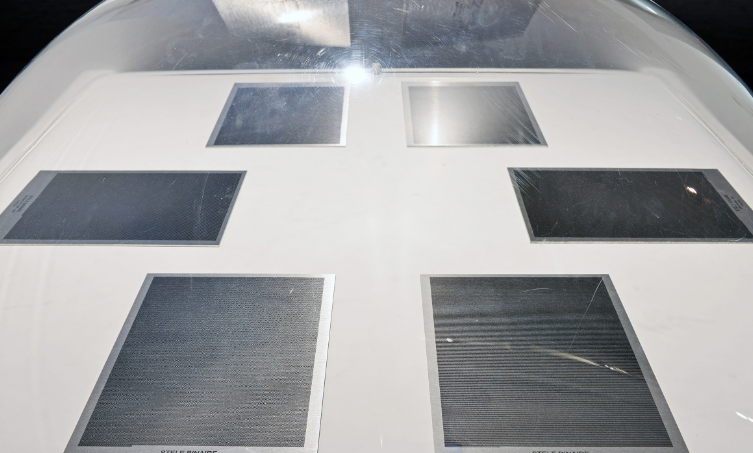 © Samuel CARNOVALI
France
Du 2 au 14 mai
14h - 18h
Les Stèles binaires sont des objets figurant l'impression sur un support pérenne du code binaire de différents fichiers audiovisuels issus du patrimoine mondial.
Ainsi, chaque plaque devient la sauvegarde matérielle d'un fichier virtuel. Ces six stèles ont été choisies pour leur caractère historique ou symbolique (médias libres, usages collaboratifs de l'Internet, archivage, problèmes d'identité, de perte de liberté) : elles représentent des fichiers image de Neil Armstrong, Julian Assange, Minecraft et des fichiers son d'Eurosignal, Space Invaders ou HAL9000 (2001 l'Odyssée de l'espace).
The Binary Steles are objects that represent the printing of the binary code of various audiovisual files from the world's heritage on a perennial medium. Thus, each plaque becomes the material safeguard of a virtual file. These six steles were chosen for their historical or symbolic character (free media, collaborative uses of the Internet, archiving, problems of identity, loss of freedom): they represent image files of Neil Armstrong, Julian Assange, Minecraft and sound files of Eurosignal, Space Invaders or HAL9000 (2001 the Space Odyssey)
Cette œuvre appartient à la collection de l'Espace Multimédia Gantner – Conseil Départemental du Territoire de Belfort.
https://guez.org/davidguez/index.php/2022/01/07/steles-binaires/
ésam Caen/Cherbourg10