Kathy Hinde
Earthquake Mass Re-imagined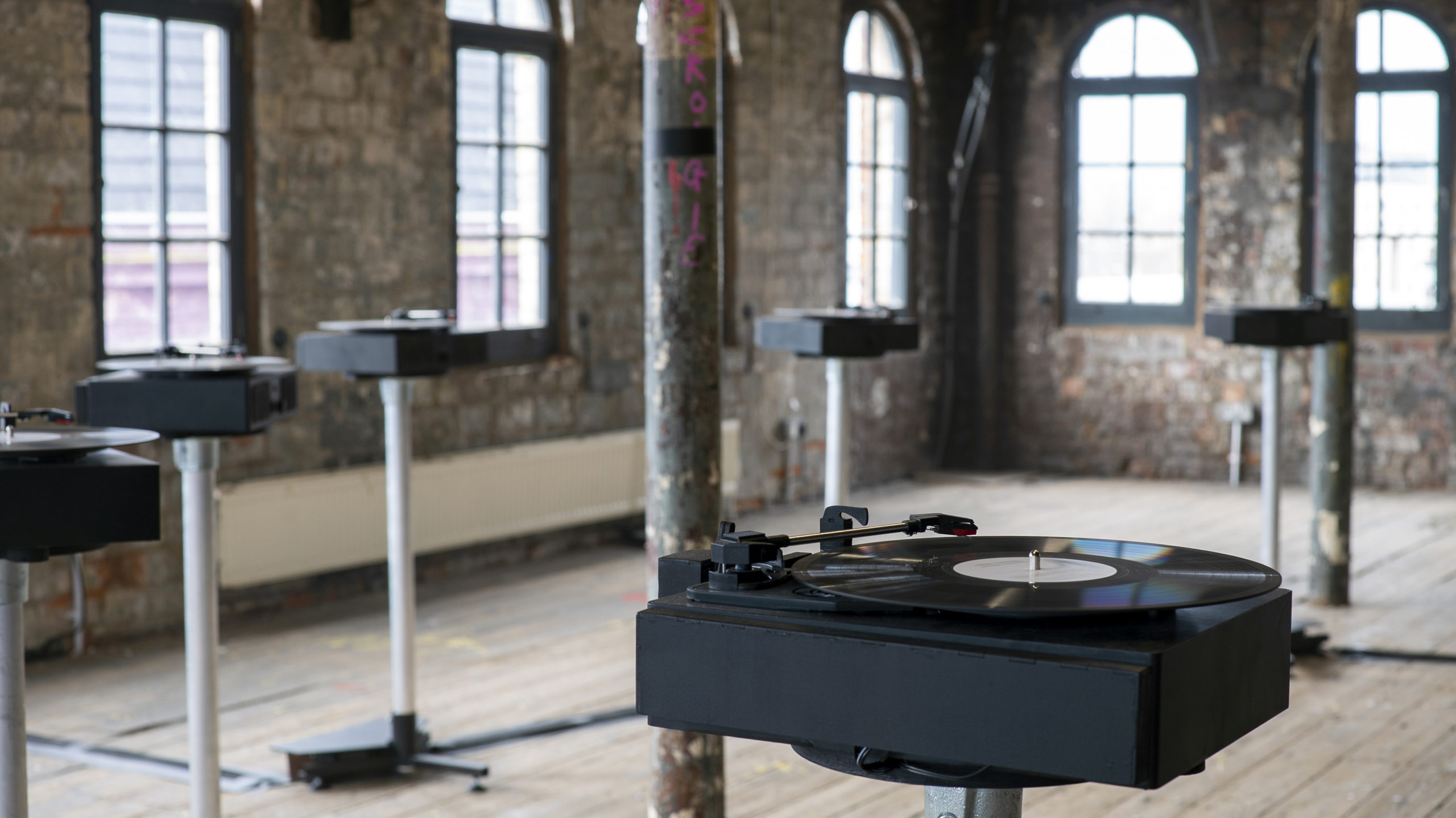 © Nell Jarvie
Angleterre / England
Du 2 au 14 mai
14h - 18h
Douze platines vinyles disposées en cercle diffusent une messe du XVe siècle, en réponse à des données sismiques du tremblement de terre qui a secoué le Mexique le 19 septembre 2017.
La messe Tremblement de terre d'Antoine Brumel (vers 1497) est une œuvre de musique chorale de la Renaissance pour douze voix d'une complexité étonnante. L'œuvre est centrée sur les douze parties vocales individuelles de l'Agnus Dei de Brumel, enregistrées par le chœur mexicain Staccato. Les voix ont été gravées sur vinyle pour être lues sur des platines adaptées. À mesure que la sismicité augmente, les voix deviennent plus fragmentées et changent de densité.
Twelve vinyl decks arranged in a circle play a 15th century mass, in response to seismic data from the earthquake that shook Mexico on 19 September 2017. Antoine Brumel's Earthquake Mass (c. 1497) is an astonishingly complex work of Renaissance choral music for twelve voices. The work is centred on the twelve individual vocal parts of Brumel's Agnus Dei, recorded by the Mexican choir Staccato. The voices were recorded on vinyl for playback on suitable turntables. As seismicity increases, the voices become more fragmented and change density.
Installation created by Kathy Hinde
Source material: Angus Dei from Earthquake Mass by Antoine Brumel
Vocals performed by Staccato, directed by Marco Antonio Ugalde, recorded & mastered by Paco Aveleyra.
Installation control software by Matthew Olden
Data processing by Professor Chris Hinde
Fabrication assistance by Jasmine Butt
Vinyl mastering and cutting by Dub Studio
Consultant Seismologists at UNAM – Dr. Gerardo Suárez Reynoso, Dr. Xyoli Pérez Campos, Dr. David A. Novelo Casanova, Dr. Carlos Valdés Gonzále and Dr. Allen Husker.
Staccato choir:, Discantus I: Pamela Suárez; Discantus II: Laura Becerril; Discantus III: Andrea Ríos; Contratenor I: Jaqueline Zárate; Contratenor II: Adrián Mejía; Contratenor III: Jairo Calderón; Tenor I: Francisco Mendoza; Tenor II: Alfredo Rodríguez; Tenor III: Aarón Corte; Bassus I: Miguel Mejía; Bassus II: Víctor Durán; Bassus III: Gerardo Vásquez
Commissioned by Cryptic in partnership with Anglo Arts (part of the The Anglo Mexican Foundation), Mexico & Universidad Nacional Autónoma de México (UNAM).
La coopérative chorégraphique7