Since 2006 the ]Interstice[ festival (meeting of the unclassifiable) has explored the innovative practices of international artists who question the relationships between audio / image / object / space. The projects presented during the festival take the form of visual and digital arts exhibitions, concerts and performances, and are accompanied by meetings, video projections and a creative laboratory.
The ]Interstice[ project takes place in a variety of locations in the city - including historic buildings, public, private and alternative spaces - forming a route which the visitor/ resident/ citizen can follow, and thus encouraging an interaction between the public and the city. This ephemeral linkage between spaces redefines the urban territory. The projects that have been brought together for this edition of the ]Interstice[ festival are based on experimentation, and are the work of technological poets. The concept of «new technologies» has shifted from its purely mechanical utilisation towards a poetic approach, at the centre of which is located the object. Using both complex high-tech and low-tech applications the artists transmute ordinary objects and their environments into instruments of sensual poetry which invite us to look at the world anew and allow us to experience the poetic dimension that emanates from our everyday environments.
]Interstice[ is a visual and sound laboratory of works originating from mechanical or commonplace forms that are sometimes revealed, sometimes concealed. The technology is not simply a means to an end, it disappears into the flow of thoughts and sensations, leaving the viewer suspended between two states of reality. It creates and recreates another reality, another perception of contemporary creation and its relationship to time and space in the city.
Thanks to a number of institutional and private sponsors who are associated with ]Interstice[, access to all events is free. The two week festival provides a challenging and electric programme of concerts and performances, and invites visitors to experience, both visually and aurally, the fleeting and shifting phenomena of flows and waves. This year ]Interstice[ champions unusual and experimental visions that evoke the notion of « Dancing and singing objects». The events will take place in eight locations across the city and the festival organisers invite the public to undertake a real journey of discovery through cutting edge creativity, in the city of Caen.
David Dronet / station mir
artificiel
condemned_bulbes

ÉSAM Caen/Cherbourg, Site de Caen
Grande galerie
Cours Cafarelli
vernissage mardi 13 mai de 17h à 20h
exposition visible du 13 au 24 mai
de 15h à 19h sauf le dimanche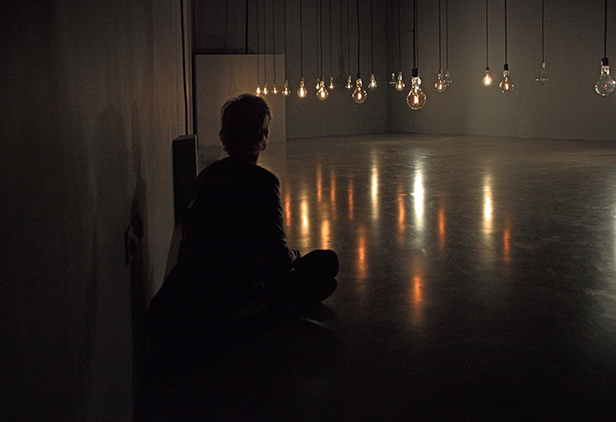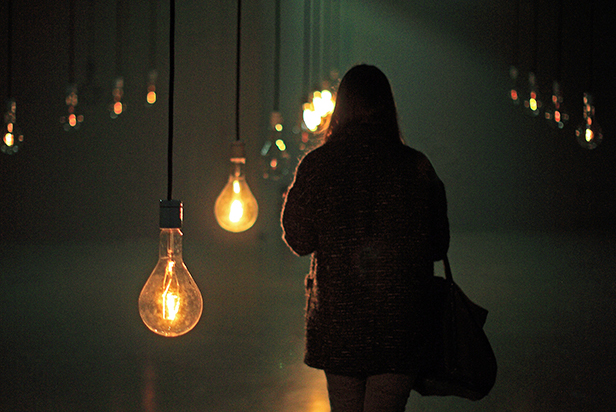 condemned_bulbes is a sound and light installation made up of 1000W incandescent light bulbs. By passing ordinary electricity through a custom-made light dimmer, artificiel is able to bring the coil in a state of excitation that is clearly audible and controllable. The installation is a sort of electric chorus that manifests itself acoustically. The simple visual layout of the bulbs enhances its global perception, while boldly occupying the space in which the work is presented. Visual and audio adjustments are made everytime the work is presented in order to underline architectural and sonic qualities of the visited space.
zimoun
création originale in situ

Eglise saint nicolas
rue Saint nicolas
vernissage mardi 13 mai de 17h à 20h
exposition visible du 13 au 24 mai
de 15h à 19h sauf le dimanche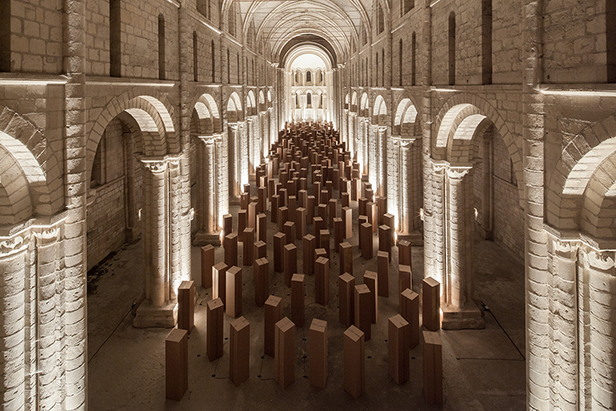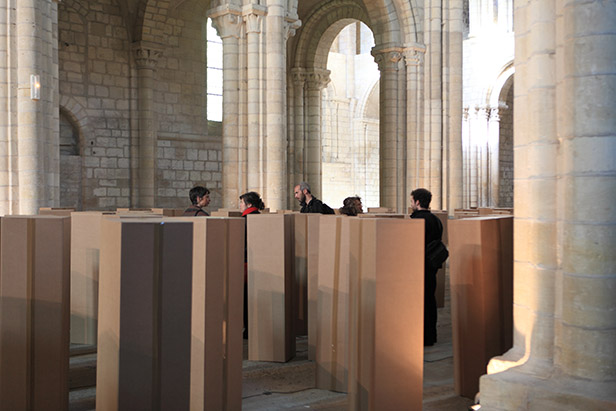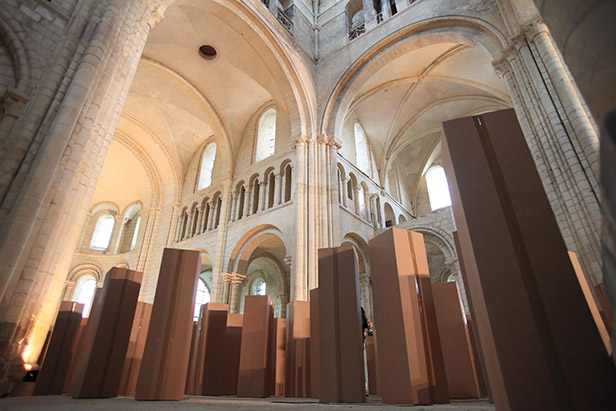 Using simple and functional components, Zimoun builds architecturally-minded platforms of sound. Exploring mechanical rhythm and flow in prepared systems, his installations incorporate commonplace industrial objects. In an obsessive display of simple and functional materials, these works articulate a tension between the orderly patterns of Modernism and the chaotic forces of life. Carrying an emotional depth, the acoustic hum of natural phenomena in Zimoun's minimalist constructions effortlessly reverberates.» bitforms gallery nyc
Zimoun, born in Switzerland in 1977, lives and works in Bern. His work has been presented in solo and group shows as well as performances worldwide. Zimoun has been awarded different art prizes and residencies and has served as a guest lecturer.
Brunch / rencontre avec Zimoun à
ésam caen/cherbourg, site de caen, atrium
le mardi 13 mai à 12h30
david letellier
versus

artothèque, espaces d'art contemporain
palais ducal
vernissage mardi 13 mai de 17h à 20h
exposition visible du 13 au 24 mai
du mardi au samedi de 14h à 18h30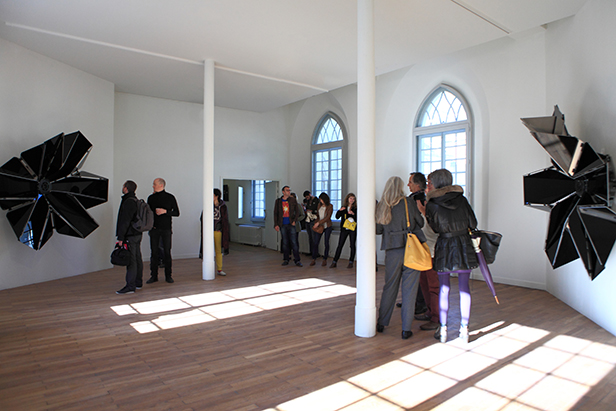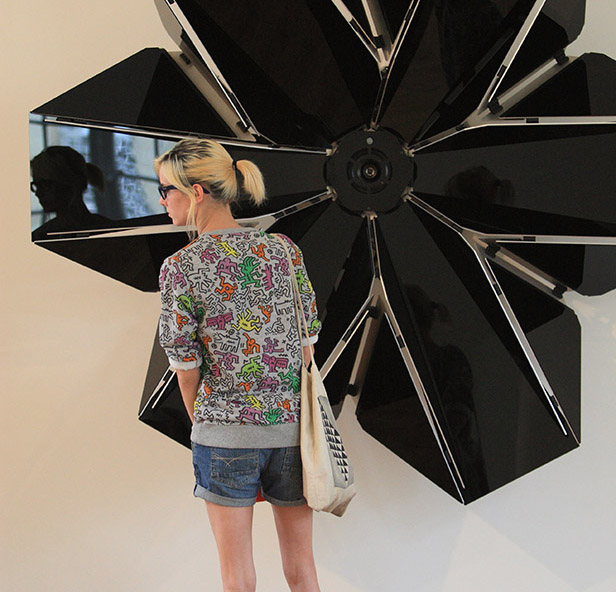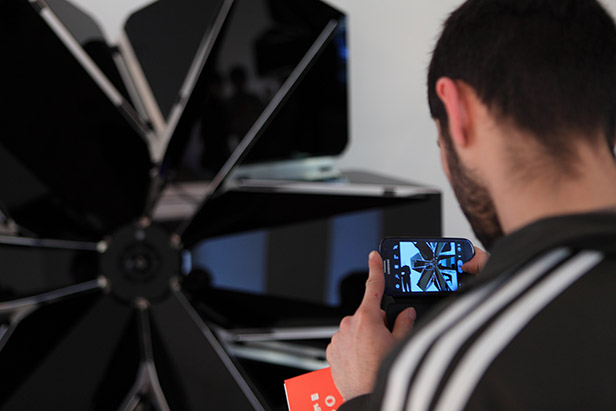 Versus is a sound installation consisting of two kinetic sculptures placed face to face.
Each sculpture is made out of 12 triangular panels, hinged and powered by six linear actuators, controlled by a specific program. At the center of each corolla, a loudspeaker and a microphone allow to play and record sounds. At regular intervals, each sculpture produces a sound, simultaneously recorded and analyzed by the opposite sculpture, which then moves according to the frequencies of this sound. Like a feedback loop, it then plays back the recorded sound, with the errors and disturbances caused by the reverberating space and the visitors. By intervening in this conversation, the viewer becomes an actor, as he degrades the communication by his presence and the noises he produces. As the panels move back and forth at a pace determined by the environmental sound, they create a non-immediate interaction, where the imperfections of reproduction are becoming creative elements. The original sound is continuously transformed, and becomes something entirely new and unpredictable. The memory of past events is hold for a moment, until it is reproduced, degraded, and then forgotten, replaced by the present.
erik samakh
création originale in situ

église du vieux st-sauveur
place saint-sauveur
vernissage mardi 13 mai de 17h à 20h
exposition visible du 13 au 24 mai
de 15h à 19h sauf le dimanche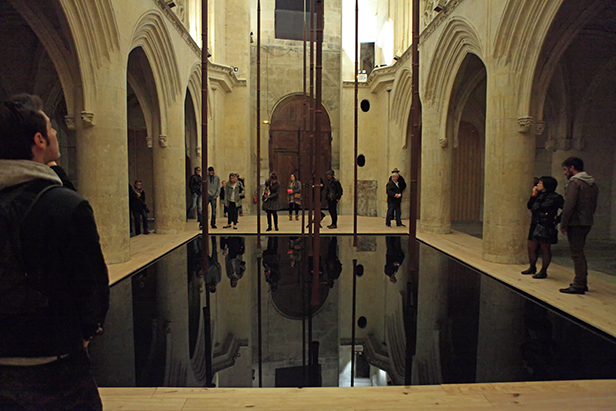 The integrality of the work of Erik Samakh is based on an ever-present dialogue between man and nature. He is the watcher, attentive to the noises  the sounds and the colors that make up nature's riches. For the last 25 years, he has captured, recorded and consolidated in the museum space what has become his material. He installs and broadcasts his work in those places most devoted to discovery. The ambient space is transformed, and becomes fertile ground for the power of the image, then a place for listening, and then a haven for silence. He transforms our perceptive approach to reality. The dialogue continues at times through his interventions in the landscape, infiltrating different instruments of his own design. Erik Samakh is not so much an Acousticien but an artist of our times, who is dedicated to offering new experiences and sensations that go beyond the visual...
Alexandre joly
trames

La fermeture éclair
quai françois mitterand
vernissage mardi 13 mai de 17h à 20h
exposition visible du 13 au 24 mai
de 15h à 19h sauf le dimanche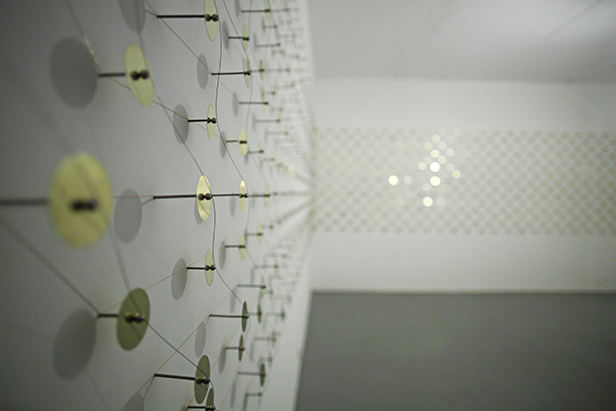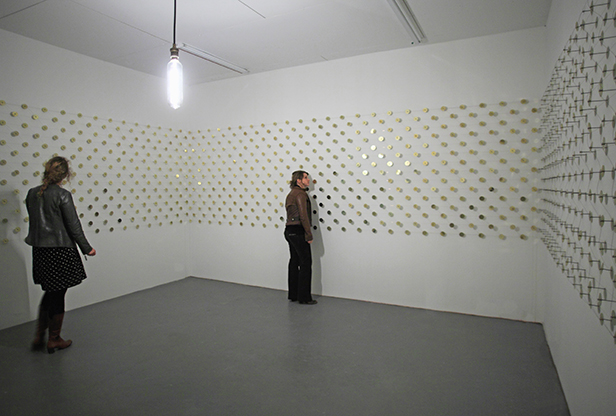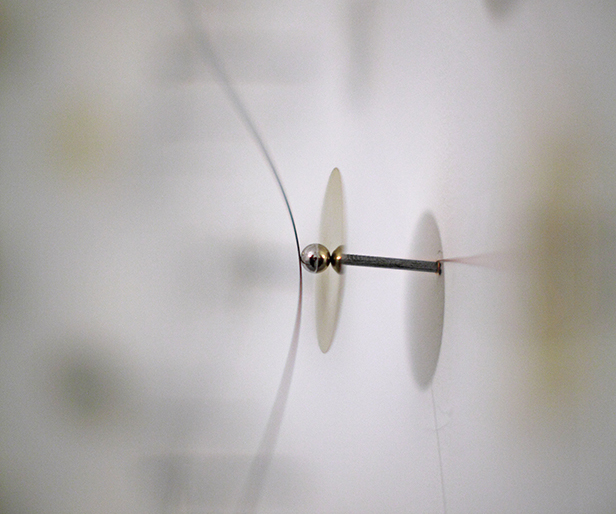 One finds in the works of Alexandre Joly a tool which he has taken the habit of working with, the piézo. Small, low-tech speakers, in the shape of a lozenge, which he first found and then harvested from musical greeting cards. He then began sodering them together so that they constitute a circuit -lanky, evanescent, golden- of wires and cables. Once the network is created, the sound of the piézos becomes transformed while simultaneously offering a graphic form, figuring an imaginary world that is both sensitive and animal. Working with little, in the way that Robert Filliou was able to express in his poetic work and his making, but also from the perspective of sonic tools. Alexandre Joly does not discriminate when selecting his materials. He develops through experimentation. Placing himself in another dimension than that of musicians, he explores such notions as time, space, landscape or the imagination through sounds which can be apprehended as visual, material, sculptural. 
Brunch / rencontre avec Alexandre Joly à
ésam caen/cherbourg, site de caen, atrium
le mercredi 14 mai à 12h30
Radar Hovering In The Sky

La fermeture éclair
quai françois mitterand


mardi 13 mai à 22h30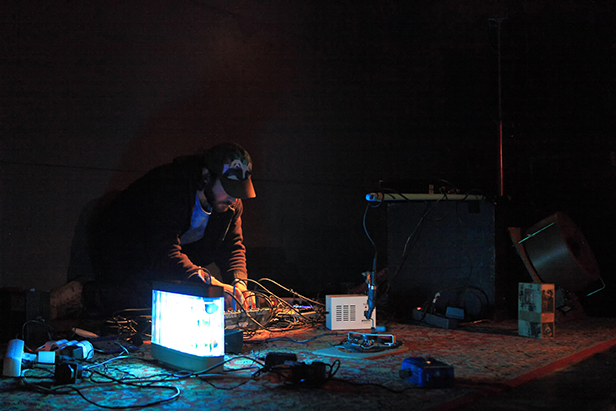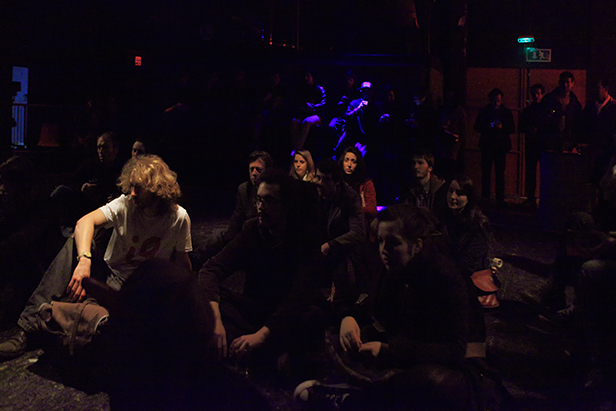 Captor of electromagnetic waves, motor, transformers, stroboscopes, digital tanpura, taishigoto, and divers objects. An electromagnetic wave captor is put in rotation with the help of a small motor. Like a radar, it draws circles at different speeds. Various electronic devices (transformers, stroboscopes, ventilators) are placed and displaced around the perimeter. This arrangement thus captures "the electric aura" of objects. The cyclical variations are accompanied by various accoustic instruments.
This experience becomes a sensitive and hypnotic listening experience that questions the nature of sounds and their progressive transformations.
"I like those physical sounds that become sculptural material in space, either in a minimal way, or in a radical manner which we can apprehend with the body. I also like this idea that good music is floating and organic, that it evokes much and that it sensitively touches the soul."
jean lain
création originale

le style diwo
place jean letellier (quatrans)
vernissage mardi 13 mai de 17h à 20h
exposition visible du 13 au 24 mai
de 15h à 19h sauf le dimanche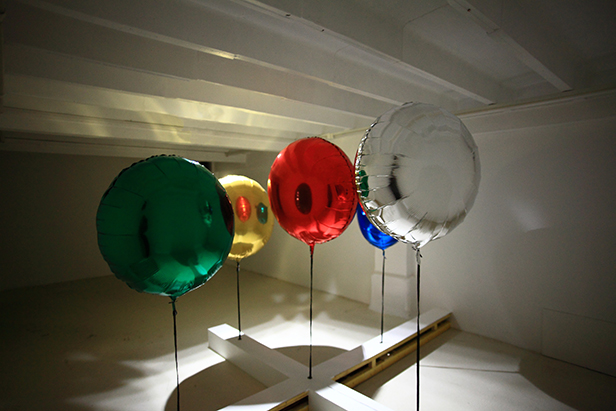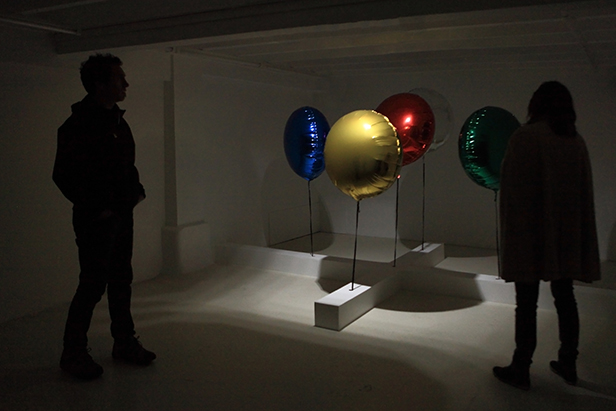 Designer, creator and entrepreneur, reflects the status of the contemporary artist which occupies a multitude of roles, Jean Lain explores through a plethora of derived objects, the diverse protocols of the distribution and the commercialization of creation. Jean Lain adopts different commercial contexts that find sculptural forms or through services which lend themselves more to the realm of performance than simple business parodies. The visual world through its logos, its signs, and its decorating coming from mass marketing that touches our sensitivity.  But Jean Lain not only exists as the invading shadow of society's symbols of consumerism with a post-pop style. These different pieces belong more to the contemporary vanities, the object-sculpture in monumental dimensions, the giant inanimated toys yanked from memory. It is connected to our interieur sense of time, our own nostalgia. The apparent fragility of these sculptures evokes the ephemeral character of all things.
benjamin dupé
fantôme, un léger roulement, …

ésam Caen/Cherbourg
site de caen, grande galerie
cours cafarelli


du mercredi 14 mai au samedi 17 mai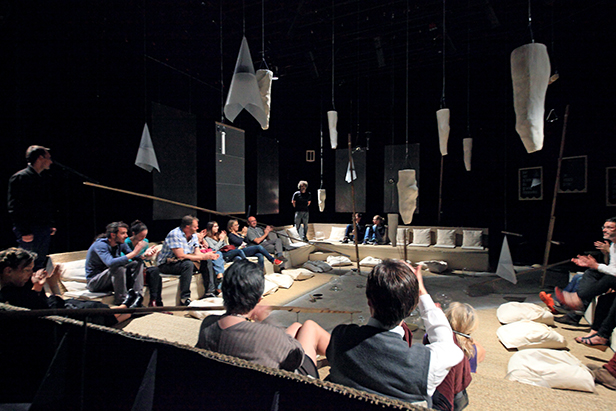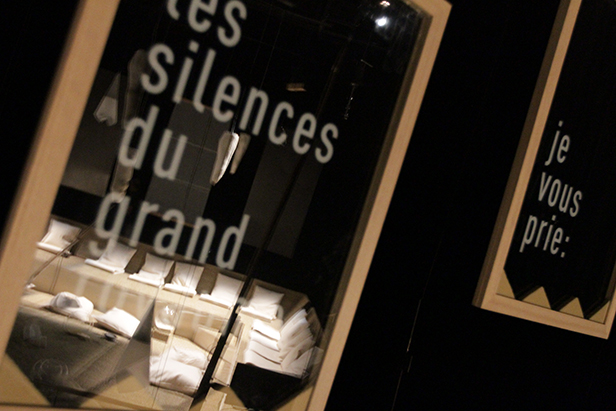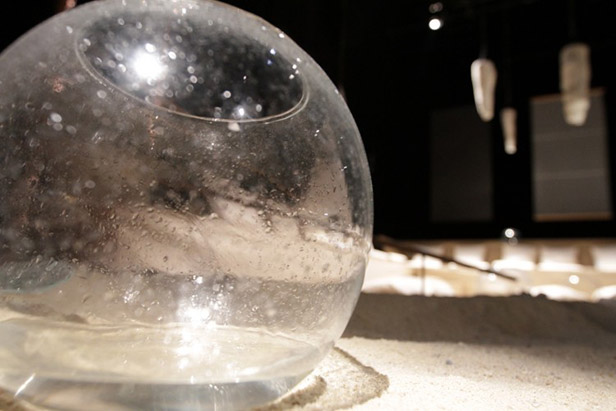 GHOST, LIGHT ROLLING, … AND ON THE TAUT SKIN OF OUR EARDRUM
« A musical composition for electroacoustic sounds, mechanical instruments and remote controlled resonant objects, Fantôme, (…) is played in a resounding, luminous immersion space, a mellow, enveloping environment that plunges the audience in the depth of musical vibration. By organizing different stimuli (sounds, mechanical automatons motions, vibrations of materials, luminous intensity), this piece displays a writing appealing to all the senses, yet music remains the dominant language, toying with mystery and fascination. A sensorial experiment then, but one of remembrance too: hidden under the composition, some fragments from Orpheus's myth invite us to echo what remains – in a confused or unconscious way – in our head or body, of the figure of Orpheus and of his lost Euridyce. »
yro
eile

ésam Caen/Cherbourg
site de caen, auditorium
cours cafarelli


mardi 13 mai à 21h30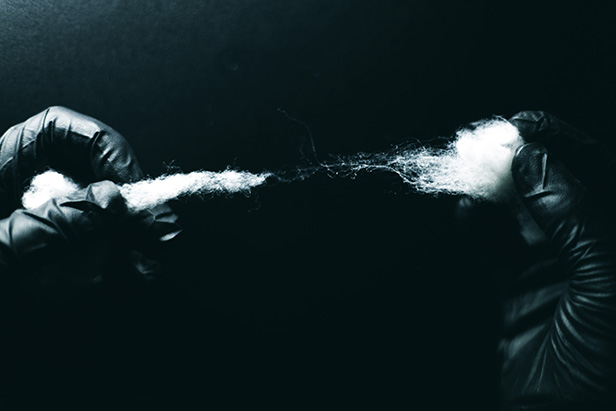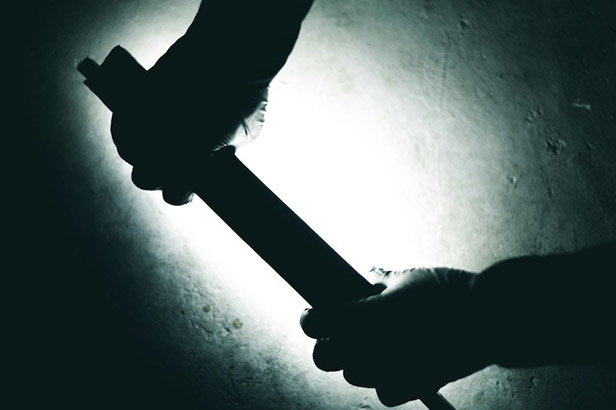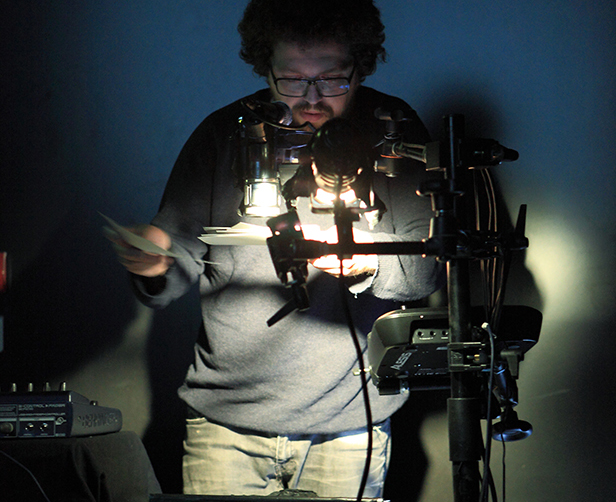 Eile is a live cinema performance in which Yro makes, before your eyes, the sound and the image using a camera, microphones and small objects : paper, balls, cotton, plastic, light and photos.  These materials enable him to create video and sound loops, which he assembles, samples and manipulates.  They are aesthetically close to abstract cinema and object theatre.  In this way, manipulating, shimmering and using other synesthetic connections, he composes a land of primary and concrete forms.  The process of fabrication is a part of the staging as much as the projection of the resulting film. The cinematographic form is put to the test by the arrangement, each time unique, of images and sounds, and also by the important place given to improvisation and accident.  A shifting and autobiographical performance, Eile (anagram of his first name), is an exploration of childhood terrain where events and objects take on dimensions that are subjective and sometimes magical.  The images of the performance don't tell a story as such but awaken, in each one of us, buried memories, a web of symbolic figures.  Indescribable, Eile must be seen as an experience that is at the same time strong and fragile.
Born in 1980, Elie Blanchard, aka Yro, is a multidisciplinary artist, living and working in Paris. He blends music & video in performances and installations in which new technologies and low-tech are coexisting. Yro's work also plays on image & sound links. He wants them deeply interlocked. The created universe is dark, monochromatic & geometrical. In his works, Yro uses, transforms & shoots tangible materials such as paper, glass, engines or even light. He investigates a primary shapes, simple devices & objects territory that becomes poetic by a symbolic and evocative figures' network. Thus, a subjectivity, wandering and poetry space is created. The live notion is also very important in Yro's work. He likes that the public can graspthe creative process just as much as the emanating result. He's one of the pioneers of live-cinema movement. Yro is also the Visionsonic festival originator, a visual and sound dedicated event. He is part of the artistic collective AVOKA, an organization that carries out production and distribution of New Media shows and installations.
johannes bergmark
platform

conservatoire de caen
rue du carel


jeudi 15 mai à 20h30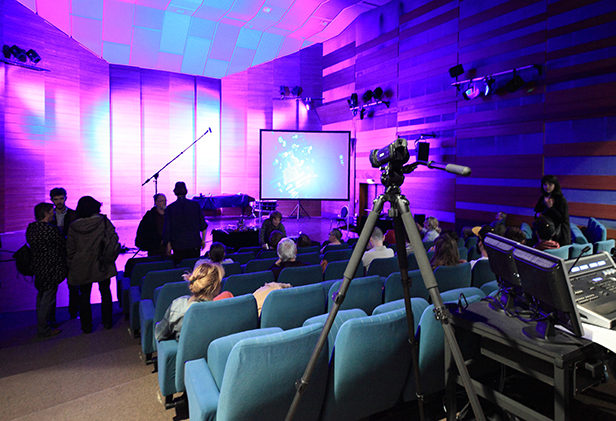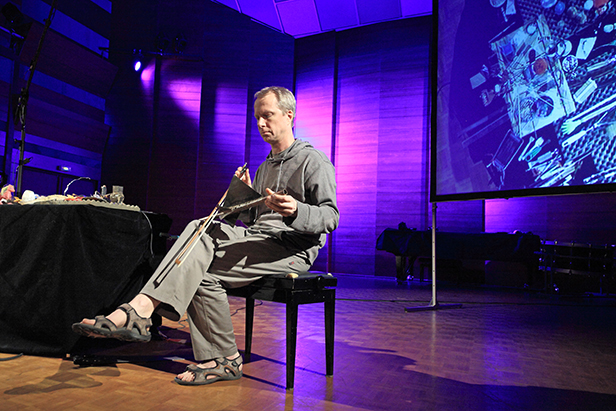 Johannes Bergmark makes a sort of surrealist musical object theatre with an evolutionary meta-instrument or amplified "stage" called the Platform, with selected found objects as sound sources, such as junk, toys, natural materials, decorative kitsch, kitchen utensils and strange tools with unknown functions. He lives in Stockholm, is a frequent visitor to Berlin, leads workshops about unusual sound sources and builds experimental musical instruments, writes, invents instruments and has a fondness for playing unusual ones such as the singing saw, the micro moog or the vietnamese Đàn Bầu.
patrick farmer & david lacey
Radar Hovering In The Sky

conservatoire de caen
rue du carel



jeudi 15 mai à 20h30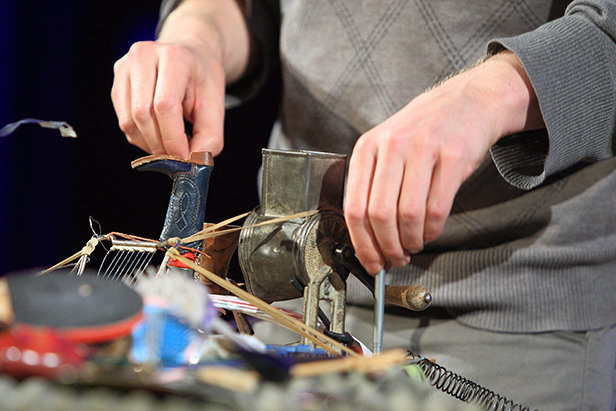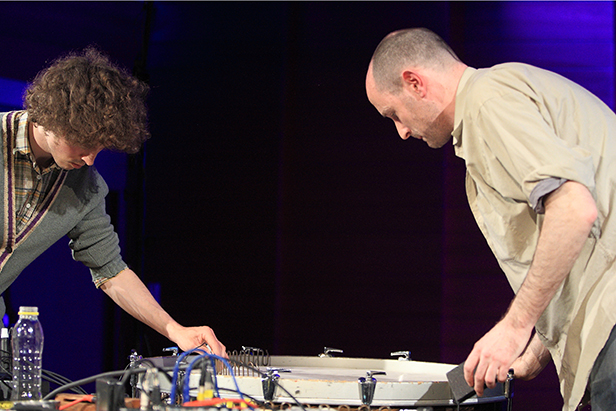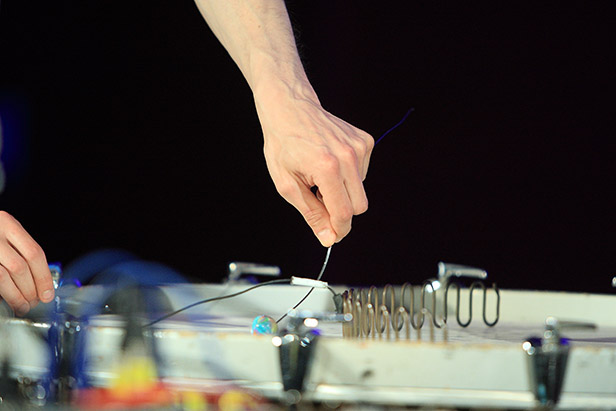 Patrick Farmer is an artist working with composition. He was born in Beckenham, Kent in 1983, and has moved all over the country since then. His mother bought him his first drum kit when he was twelve and eight years later he spent six months in India studying Hindustani Tabla with Pandit Nayan Ghosh. Still most often referred to as a percussionist, though he hasn't performed on a drum kit for nearly four years, Farmer will commonly enlist the help of a drum or turntable to act as a resonator for natural materials or filtering field recordings.Lately he has been using the motors of a reel to reel player in preparation for his tour with Stephen Cornford.
David Lacey is a musician from Dublin. He uses drum set, percussion, crude electronics, found objects and cassettes. He plays regularly with Rob Casey, Patrick Farmer, Daniel Jones, Fergus Kelly, Ailbhe Nic Oireachtaigh, Cian Nugent, Colm O'Hara, Paul Vogel and the group Chip Shop Music. He has also performed with Rhodri Davies, Mark Wastell, Angharad Davies and Annette Krebs, amongst others. He is currently part of the collaborative project Unforeseen with Anthony Kelly, Fergus Kelly, David Stalling and Paul Vogel. He has had music released on the labels Another Timbre, Cathnor, Confront, Copy For Your Records, Fort Evil Fruit, Homefront and Room Temperature.
mlfd
artothèque, espaces d'art contemporain
palais ducal


mardi 20 mai à 20h30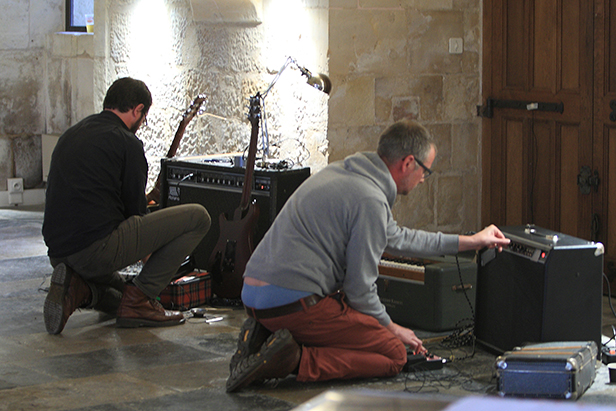 MLFD is an experimental music duo formed in spring 2009. Each session is a sound challenge.
By using only physical acoustic events, the idea is mainly based on free improvisation wich takes in charge the space and the context where it's produced. Architectur of the place is itself the instrument.
MLFD is composed of Marc Levillain (contextual objects) and Franck Dubois (feedbacks and strings).
Marc Levillain use only what he finds in the place, amplified through sensitive microphones (piezos) on a amplifier. Franck Dubois use mainly a piano frame of 5 octaves mounted on a steel fframe with wheels and a guitar as resonators with an amplifier. Both of them can also do and use something else depending on the context.
bj nilsen
artothèque, espaces d'art contemporain
palais ducal


mardi 20 mai à 21h30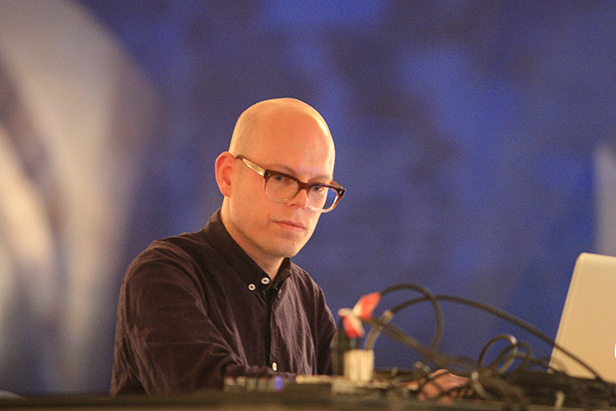 BJ Nilsen (b,1975 Sweden) Is a sound and recording artist. His work is based on the sound of nature and its effect on humans. He primarily uses field recordings and electronic composition as a working method. He has worked for film, television, theatre, dance and as sound designer. His newest album presented here is "Eye Of The Microphone" [Touch # TO:95, 2013] - a somewhat surreal audio rendition of the sounds of The City of London. Currently also working on The Acoustic City, a book publication with CD, co-edited with Matthew Gandy, [2014, JOVIS Verlag, Berlin]
david neaud, juHyun & sunyoung choi
performance sonore et théâtre d'ombres

artothèque, espaces d'art contemporain
palais ducal


mardi 20 mai à 22h30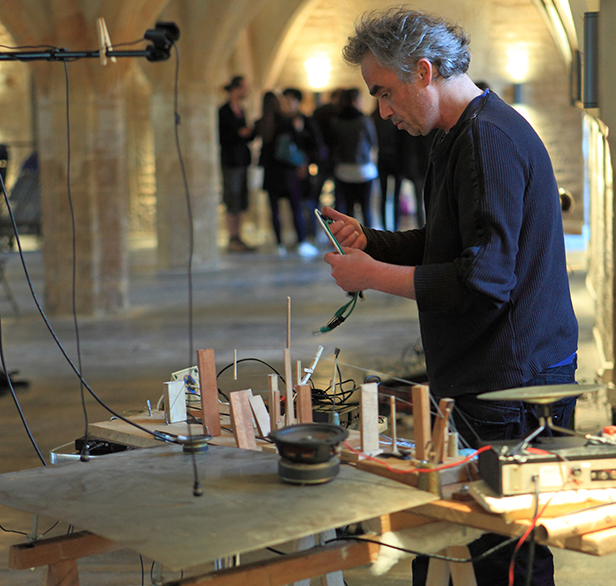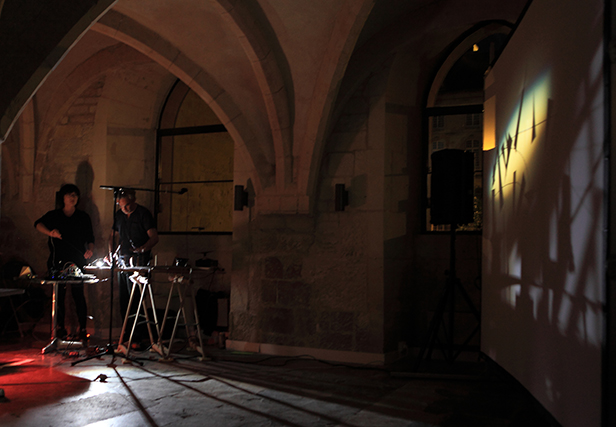 Since the last few years, David Neaud is essentially interested in audible art and more precisely to those physical properties and internal instabilities of the sounds with which he plays. Based on low tech technology and with various domestic objects, his sonic devices are small laboratories of fortune, that remind one of archaic mixing tables and primitive synthesizers. With these devices he captures and traps vibrations which permit him to generate a delicate universe - which at times takes us back to the sonic scenery of science fiction films of the 50's and 60's- constituting superimposed sound layers.
During each attempt, he tries to control a reaction through a chain of events formerly apprehended. His actions are those of the researcher, the mad scientist, trying to reproduce small sonic and visual displays. Also, since his work is elaborated through rather precarious technology, the mastered gestures have a rather improbable quality. In this way, his sound and visual productions are wide open to chance and the accidental, giving space to improvisation and research...
Juhyun Choi is South-Korean, and lives in France since 2001. She is an art-maker and an author of comic books. She has notably published Sous la peau du Loup et Halmé (ed. Cambourakis) Under the Skin of the wolf and Halmé, et Ressac (ed. Tanibis). Her short stories have appeared in several political and collective comic book reviews (notably Le Monde Diplomatiaue en bande dessinée, Internazionale, Le Nouveau Journal de Judith et Marinette, Stripburger). She was artist in residence at the villa Marguerite Yourcenar and at la Maison des auteurs of Angoulême. As an artist, she puts on experimental shadow puppet theater shows, mixing dance and music. Her pieces have been played at Ljubljana and in Brussels.
hp process
translations

ésam Caen/Cherbourg
site de caen, auditorium
cours cafarelli


jeudi 22 mai à 20h30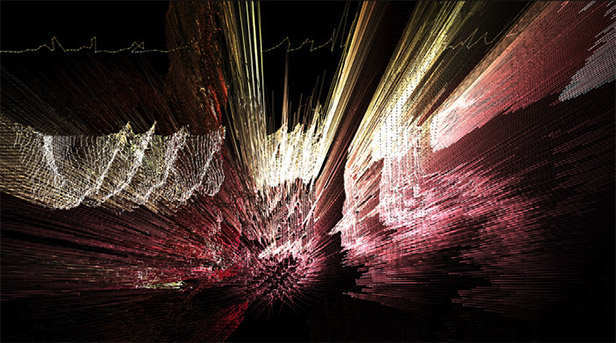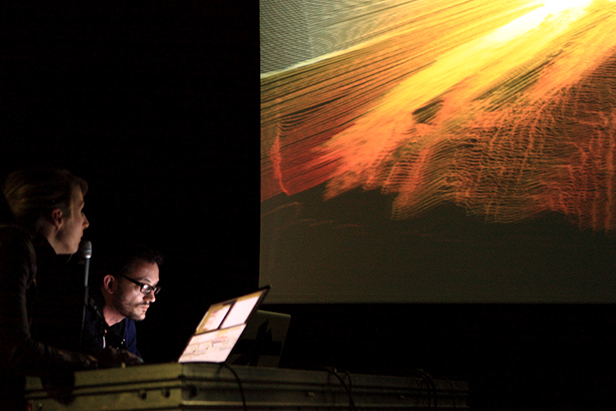 "Translations" is an audiovisual performance where sounds and images are produced in real time in a synaesthetic and hallucinatory logic. It is a dive into the vibrations of speed and the temporal and spatial diffractions produced by travel, transfers, routes, connections, translations. From films made during journeys and a list of destinations, travel time, travel distance and means of transport, HP Process built in real time an infinite travelling shot that explores the variations and visual distortions generated by speed. It is a crossing in the vibratory field of the video and the sound which unfolds from a hybridization between voice, text and electronic sounds, to go to an hypnotic noise densification.
« Translations » wants to create a kind of "digital dream-machine", where film deterioriation is an echo to memory deterioriation __ the journey is always both what has happened, and what is to come. It is already a memory at the moment when it occurs, it is already part of a memory process that goes along with a process of transformation / deformation / degradation. It is always a projection, a vision, which reveals itself as blurred, hazy, elusive.
Valentin durif
émincé d'oreilles

ésam Caen/Cherbourg
site de caen, auditorium
cours cafarelli


jeudi 22 mai à 21h30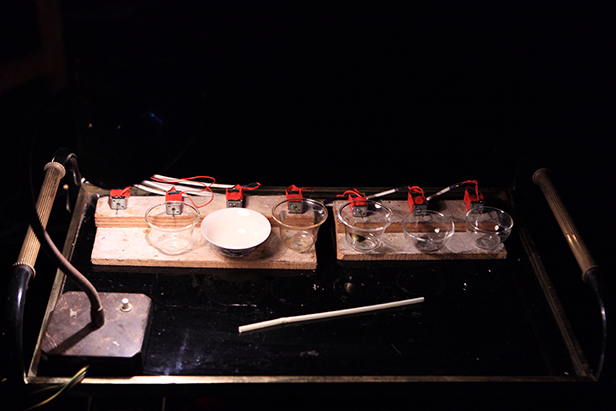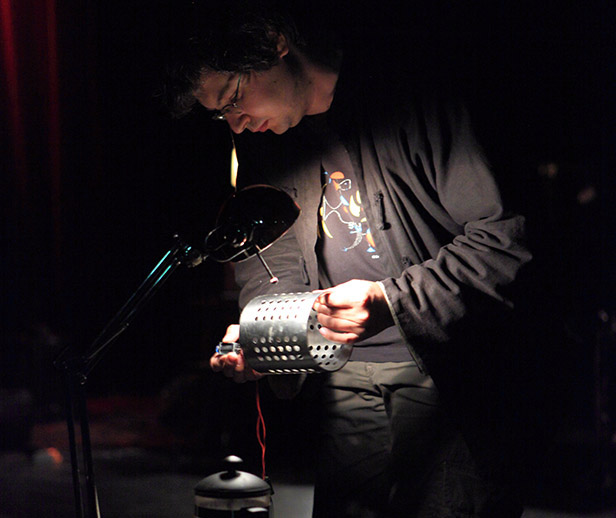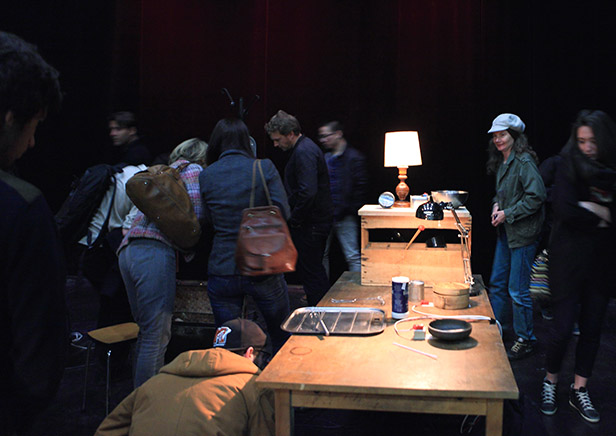 Émincé d'oreilles (Minced at the Ears) is on one hand a show and on the other a musical installation half-way between concert and object theater. In placing motor-actioners and speakers on out-of-order objects, Valentin Durif reuses a variety of kitchen utensils associated habitually with their original function. These recycling innovations invite us into a living visual and sonic universe.  Émincé d'oreilles is also several tables with aesthetic references pulled from cinema and fantastical literature. The musician perturbs, tunes, and alters the sounds, he confronts himself literally to the device, to his arrangement. Synthetic sounds and voices join in the ensemble, played live. The result is a music that is very electronic and very acoustic, equally inspired from electronica, from rock, as from a 'noise' type quality of sonic and musical creation. 
jean vance
before/apero/playlist

le quatorze




vendredi 16 mai à 19h

concert

l'écume des nuits




vendredi 16 mai à 21h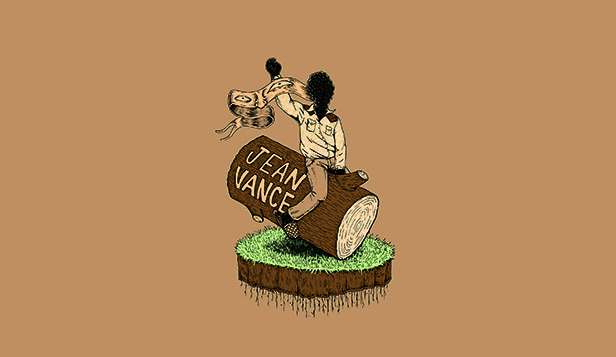 At times blunt and soft spoken, overdressed and exoskeletel, Jean Vance is the type of crypto-rapper that lives exclusively on keratin. What lies under the pull-out couch is his domain, but from time to time, by the light of the moon, he is off to play one rrrap concert or another at the edge of his native city. His set at l'Écume des Nuits will probably be accompanied by his mural drawings signed Ronchhon De Golgauthier.
Anne solo
Mix

l'écume des nuits




vendredi 16 mai à 22h
Anne Solo mixes hip-hop. It is the music that always drew her, made her dance, despite the misogyny, or maybe because of it, since she is a bit of a stunt-woman. She also makes shadow projections as for the occasion of the closing session of Nordik Impakt in 2012, an installation in the courtyard of the Fermeture éclair, projecting on the facades, and in 2013 she is responsible for a music video for Samba de la Muerte under the title «Secrets».
Cousteau twins
before/apero/playlist

le quatorze




mercrredi 21 mai à 19h

concert

l'écume des nuits




mercredi 21 mai à 21h
Flavien Lavisse & Raphaël Martin
Cousteau Twins is a plunge into the dark and unsavory waters of acoustic-electric drone. Cousteau Twins, it is the apnea that Jacque Mayol never achieved. Cousteau Twins, is the eye of the storm.
mimi kawouin
before/apero/playlist

le quatorze




vendredi 23 mai à 19h

concert

l'écume des nuits




vendredi 23 mai à 21h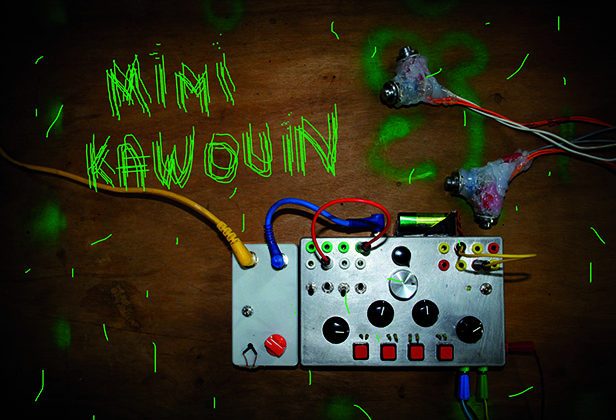 Impro Funny Noisy Colorée Mimi Kawouin, transformiste aléatoire, accompagne ses éructations de tout un arsenal d'objets sonores et visuels bricolés maison. Chaque performance est un prétexte à tester de nouveaux bricolages….
rafhell
Mix

L'écume des nuits




vendredi 16 mai à 22h
combien mille
Mix

L'écume des muits




vendredi 16 mai à 22h



Collectif caennais dont l'object est de réunir de jeunes acteurs de la scène musicale ou des arts visuel pour «faire ensemble». C'est sous la forme d'un label de musique que l'aventure prend forme depuis 3 ans. Combien Mille ce sont : Superpoze, SAmBA De La mUERTE, Adrien Melchior et Mathieu Lion…
Luc brou & renaud jaillette
futur france / création vidéo originale

Le Quatorze




du 13 au 24 mai de 15h à 19h sauf le dimanche
Associer les notions de territoire et de temps, percevoir ce qui est déjà demain, sentir dans la normalité cette « inquiétante étrangeté » qu'est la rupture de la rationnalité rassurante du quotidien à travers une réalisation mélangeant réel et fiction, images et compositions sonores. Le point de départ de ce projet découle de la proposition de Renaud Jaillette du titre Futur France avec cette idée de mettre en scène des situations d'apparence normale mais de fait en décalage avec le réel, produisant un effet prospectif. De cette idée propre à générer de courtes scènes est venue l'envie de développer un projet plus long et ambitieux basé sur des prises de vue urbaines, des mises en scène, des interventions face caméra de témoignages réels ou fictifs et de compositions sonores mixant création et captation, l'ensemble faisant ensuite l'objet d'un traitement total ou partiel spécifique.
david neaud
blue suede drone / 21' / 2013

Le Quatorze




du 13 au 24 mai de 15h à 19h sauf le dimanche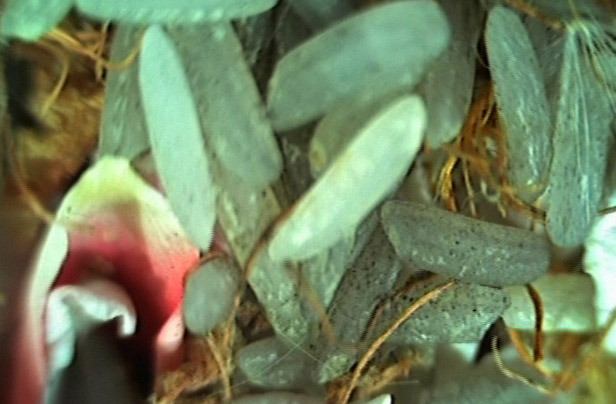 The life of a speck of graphite dust unfolds before our eyes. Inert matter, reanimated, it seems to be pushed to it's limits, it becomes agitated, it grumbles, it is chaos. Macroscopic images of flowers, sexual organs, pistils, emit like intra-terrestrial waves and bring us back to the hour of our own ephemeral presence. Grains of rice are displaced, the sound throngs. We allow ourselves to be surprised to think of our own decrepitude. We are reminded of the laws of nature, living, cellular, metaphysical reminiscing, chance, the big bang...
zimoun
329 prepared dc-motors, cotton balls, toluene tank / 2013
+ Making-of de Florian Buerki / 7'26 / 2013

Le Quatorze




du 13 au 24 mai de 15h à 19h sauf le dimanche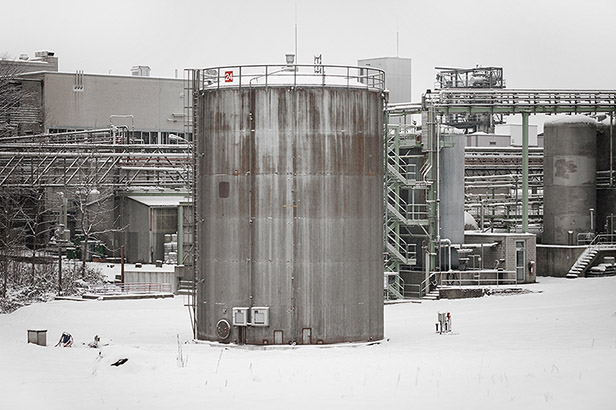 Permanent installation. DC-motors, cotton balls, filler wires, power supply, lighting system, bench foundation, toluene tank (1951). Dimensions: 9.4m x 12.8m height / 30.8 x 42 ft. Located in Dottikon, Switzerland. Architecture and consulting by Hannes Zweifel. Studio and on-site production assisted by Florian Bürki, Ulf Kallscheidt, Janis Weidner, Marlene Hirtreiter and Annie Rüfenacht. Making-of video by Florian Bürki. Lighting system designed and developped by Davide Groppi. Landscape architecture by Hannes Zweifel and Samuel Interbitzi. On-site project coordination in Dottikon by Bruno Bachmann. Constructive engeneering by Hans Jörg Baumann and Arthur Hauser. Book: concept, project management and graphics design by Raffinerie AG. Photographies by Zimoun and Janis Weidner / Studio Zimoun. Video by Zimoun.
david letellier
CATEN / 3'03 / 2012

Le Quatorze




du 13 au 24 mai de 15h à 19h sauf le dimanche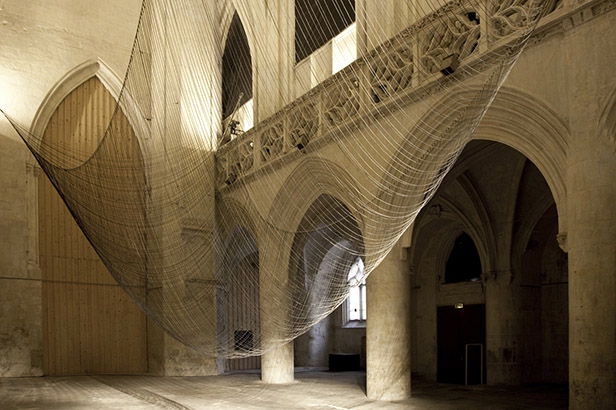 Created for the Saint Sauveur chapel in Caen, Caten is a levitating sculpture, determined by gravity and guiding the evolution of a sound composition. 300 fine wires suspended from two ropes, connected themselves at each end to a slowly rotating arm, form an evanescent surface which interacts with the architecture. By a symbolic mirror effect, the curves of the wires, created by the gravitational force, reflect the shapes of the church arches. Caten opposes the ephemeral to the eternal, the movement to the static, and produce a tension between the lightness and the millenary stability of the space. The sound composition is inspired by the medieval solmisation prayers, especially the first verse of "Ut Queant Laxis", also known as the "hymn to St John the Baptist", used in the eleventh century to determine the names of the notes of the scale used in latin countries. At each turn, the engines emit one of the first 4 notes of the scale (Ut, Re, Mi, Fa), creating a sequence of intervals, constantly reconfigured. Low frequencies resonate in the space and emphazise the transcendental character of a place once dedicated to faith. The name is derived from the term catenary, which describes the plane curve formed by a rope hanging between two points.
| | |
| --- | --- |
| | |
Renaud Jaillette
VIdéo triptych / 10'47 / 2013

Le Quatorze




du 13 au 24 mai de 15h à 19h sauf le dimanche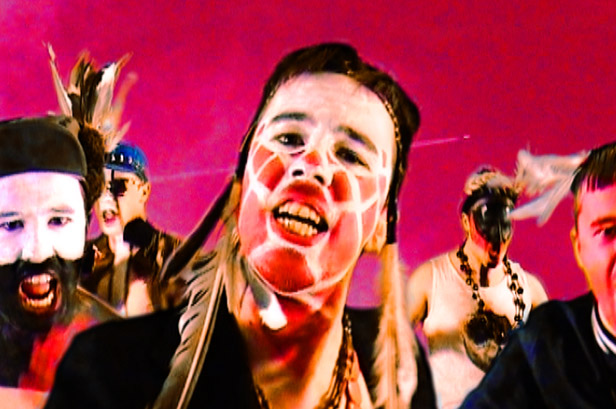 Video Triptych est un projet qui regroupe trois films musicaux : Dragons, Normandia et Jun. À travers une recherche esthétique, rythmique et scénaristique basée sur le thème de la chaleur, chacune des vidéos se diffère des autres dans le travail d'écriture et les techniques de réalisation. C'est en suivant cette même ligne directrice que le projet mêle différentes notions comme l'expérimentation d'images préexistantes provenant du web, l'incrustation et les effets spéciaux, la direction d'acteur, la recherche plastique qui émerge de la création de décors, de costumes et de maquillages.
On retrouvera aussi des concepts plus spécifiques et propres à cette œuvre comme l'intention de tromper le spectateur en écrivant et en tournant les rushs d'un film amateur totalement factice dont certaines failles révèleront un univers étrange et inquiétant, s'opérant dans des situations charnelles, voire érotiques, oniriques et parfois cauchemardesques.
Pierre Le Cann
varia / 9'55 / 2011

Le Quatorze




du 13 au 24 mai de 15h à 19h sauf le dimanche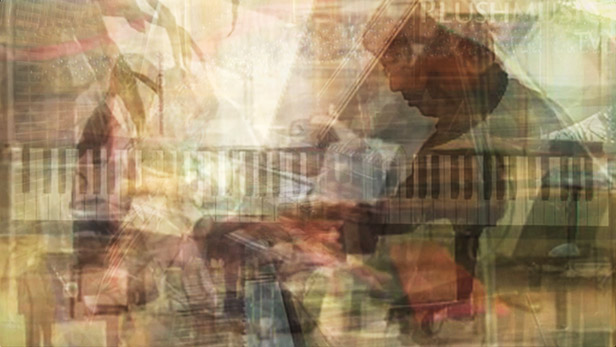 57 Individuals of all ages, of all nationalities, of all technical abilities, in different contexts and at distinct moments find themselves reunited in a temporal parenthesis around one musical score.  The music ceases to exclusively define itself by the presence of suond. More decisive is the irruption of time. A time belonging to each of us. From the simple written line, the same event can open into a "harmony of differences". "Varia" allows the sounds to produce themselves and destroys the melody to come back to its first essence, relieved of its harmonic codes. However, "Varia" has in common with music that it imposes a coherent beginning. Simultaneous attack. Landmark. Next, each contributor follows his own trajectory, short-cuts or drags out the sounds, producing at whim the mood that he or she wishes.
From the first note, each interpreter is appointed to the rank of autonomous individuality. Each one is his or herself. Just short of anarchy, "Varia" does not entertain the illusion of needing a center to preside. It offers to each one to be his or her own center.
"Varia" does not live in the unison but rather establishes a relationship between chaos and richness. "Varia" is not a piece by Chopin, it's noise, a brouhaha, a thundering, an idea that boils.
Thibault Jehanne
bourbon St. / 5'34 / 2012

Le Quatorze




du 13 au 24 mai de 15h à 19h sauf le dimanche
24 hours in Bourbon Street, New-Orleans. Bourbon St. is made from a webcam streamed live on the internet. Portrait of a street through a window : window of a computer.
Art Lab
Le Style DIWO




du 13 au 24 mai de 15h à 19h sauf le dimanche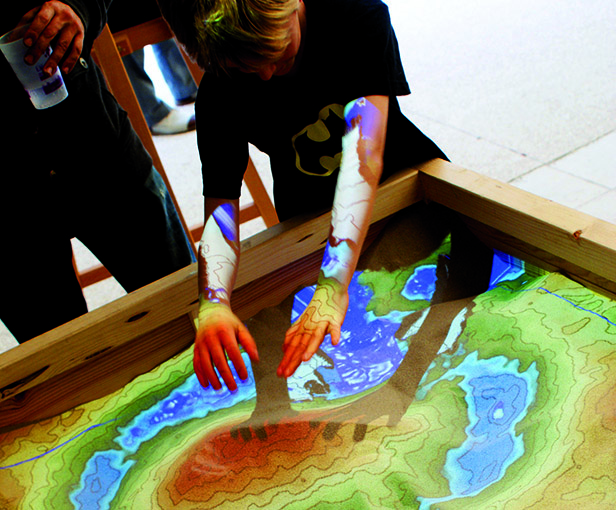 ]interstice[ s'associe au Style DIWO (Do it with others), nouveau tiers-lieu créé en 2014 pour plusieurs propositions et collaborations inédites. Le Style DIWO est un espace collaboratif dédié à la réflexion et l'initiative autour des relations aux publics, institutions et partenaires privés. Il fonctionne comme plateforme contributive et évolutive, un espace d'informations, d'échanges, de réflexions, de découvertes et de rencontres entre artistes, théoriciens, publics, acteurs culturels et ouverte à toutes les disciplines (scientifiques, sociales, économiques, urbaines...).
Les Ondes
Atelier de création radiophonique
Pour la troisième année, les étudiants de l'ESAM peuvent s'engager dans la création de projets radiophoniques. Cette année, le Festival les accueille dans le lieu du style DIWO pour accueillir conjointement les publics et les artistes afin de produire sur place des programmes qui seront intégrés dans la grille de la web radio de l'ESAM. Cet atelier est ouvert à la participation du public.
Complément d'objets
Laboratoire de fabrication / Augmented Reality Sandbox
Chaque mois, Relais d'sciences met à disposition des usagers du « Style » un objet en lien avec le numérique afin d'en détourner ou d'en enrichir les usages. Baptisé « Complément d'objets », ce dispositif accueillera pour le temps du festival un bac rempli de sable fin surplombé d'une caméra 3D et d'un vidéoprojecteur. Lorsque le visiteur manipule le sable, la projection fait apparaître un paysage virtuel et coloré qui épouse les formes, la topographie et les modulations de la surface du sable, mais aussi de la pluie ou de la neige. Imaginée par des chercheurs de l'Université de Californie (Davis) http://www.ucdavis.edu/, ce bac à sable numérique est un objet hybride, interactif, à la frontière entre la recherche et la création numérique.
Cette présentation comprendra un temps dédié pour détourner cette Sandbox et la faire évoluer en Soundbox. Seront associés à ce travail des étudiants en art, en informatique et des publics pluriels souhaitant découvrir l'objet en avant-première.
Relais d'sciences est centre de culture scientifique et technique de Basse-Normandie. Cette collaboration préfigure les actions de la future « maison de la recherche et de l'imagination » qui a l'ambition d'être un centre de sciences de nouvelle génération, encore inédit en France, par sa dimension « LivingLab/FabLab » qui met la participation active des publics au cœur de la démarche culturelle.
Résidence d'artistes
Le Syle DIWO accueille David Neaud, Suhyun Choi & Sunyoung Choi en résidence pendant la durée du festival. Ils présenteront leur performance sonore et théâtre d'ombres le mardi 20 mai vers 22h à l'Artothèque, espaces d'art contemporain.
franck Dubois / L'atelier(s)
ésam caen/cherbourg
site de caen, atrium


mardi 20 mai à 12h30
L'atelier(s) was an initiative led by visual artist Franck Dubois. During 7 years (1999-2006), a programof experimental music was housed in a former garage downtown evreux. More than 40 artists have been invited with the commun feature to improvise and create in-situ.
Today these series are shown in different locations and in collaboration with many partners : Cie Méga Pobec, Evreux (Music Conservatory), Scène nationale Evreux-Louviers, L'abordage at Evreux, PiedNu at Le Havre and the Museum of art, history & Archeology at Evreux
Damien simon / le bon accueil
ésam caen/cherbourg
site de caen, atrium


mercredi 21 mai à 12h30
A protean place situated along the Saint-Martin canal in Rennes, le Bon Accueil is both a place of production and of exhibition as well as being a café and a bookshop specialized in sound art. 
The artistic programming of Le Bon Accueil proposes primarily the discovery of works by french and european artists that have chosen sound as their medium. At the frontier of visual arts and music, sound art is incarnated through sensitive works in the form of sonic environments and installations. Via the Projets Lab, Le bon Accueil is equally supports young creators, inviting young artists twice a year from the Brittany Art School, or those who are residing in Brittany to come and present their work.
Contact
access / places
1/ésam Caen/Cherbourg

ésam Caen/Cherbourg


17, cours Caffarelli, 14000 Caen
+ 33 (0)2 14 37 25 00
Plan / Accès
2/La Fermeture Eclair

La Fermeture Eclair


Palais Ducal, Impasse Duc Rollon, 14000 Caen
+ 33 (0)2 31 85 69 73
PLAN / ACCES
3/Artothèque de Caen

Artothèque de Caen


Cours Cafarelli, 14000 Caen
+ 33 (0)2 31 83 20 35
PLAN / ACCES
4/Eglise Saint Nicolas

Eglise Saint Nicolas


Rue Saint Nicolas, 14000 Caen
PLAN / ACCES
5/Chapelle du vieux Saint-Sauveur

Chapelle du vieux Saint-Sauveur


Place Saint-Sauveur, 14000 Caen
PLAN / ACCES
6/Le Style DIWO

Le Style DIWO


Place Saint-Sauveur, 14000 Caen
PLAN / ACCES
7/Conservatoire

Conservatoire


Place Saint-Sauveur, 14000 Caen
PLAN / ACCES
8/L'Ecume des Nuits

L'Ecume des Nuits


Place Saint-Sauveur, 14000 Caen
PLAN / ACCES
9/Le Quatorze

Le Quatorze


Place Saint-Sauveur, 14000 Caen
PLAN / ACCES
Co-producers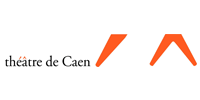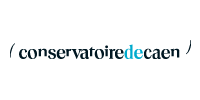 Partners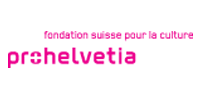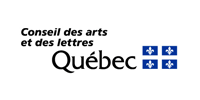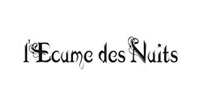 patrons



crédits / legal information
FESTIVAL PROGRAM
David Dronet avec la participation de patrice grente, samuel loviton, damien simon, franck dubois et luc brou
/
ART DIRECTION
David Dronet / Station Mir
/
Assistant
Pierre Le Cann
Angèle Bari
Benoît Razafindramonta
/
TECHNICAL DIRECTION
manuel passard
/
Assistants
Thibault Bellière
Jean-François Herpin
Germain Henry
Romain lepage
Krystian Kohn
/ Graphic design
jl & dvd
/
webdesign
françois Bunel / studiosundaymorning.com
Pierre Le Cann
/
]Interstice[ Photographs
jean-marc dronet
christophe bouder
hugo renard
mathieu lion
/
interns and volunteers
Camille Binelli, Caroline Delaville, anto, Benoit Razafindramonta, Thibaut Bellière, jonathan daufresne, Mathieu Lion, zoé carré, Adrien lefebvre, Adrien Melchior-durand, François Gremaud, Alexandre Daull, Rémi Dufay, Cyril Favory, Jordan Grosse, Germain henry, Camille Formet, Yohann Godefroy /
Thanks
juliet bates, Tanya rodgers, stéphanie hayes, michèle gottstein, Christophe bouder, jean-marc dronet, l'ensemble du personnel de l'ésam CAen/cherbourg, le frac basse-normandie, l'équipe d'amavada, l'équipe de l'artothèque, les membres du style diwo /
Co-Production /
Station Mir
ésam Caen/Cherbourg
théâtre de caen
artothèque de caen
Collectif Jazz Basse-Normandie
conservatoire de caen
relais d'sciences
/
Partners /
Ville de Caen
ODAC du Calvados
Région Basse-Normandie
DRAC Basse-Normandie
CNC/DICREAM
PRO HELVETIA
Conseil des arts et des lettres du Québec
investissements d'avenir
inmédiats
La fermeture éclair
l'atelier(s)
le bon accueil
association des étudiants de l'ésam c2
L'écume des nuits
O Chef
/
Patrons /
fondation mécènes caen normandie
normandie emballages
Kafé Crème
/
INTELLECTUAL PROPERTY
THIS ENTIRE SITE IS COVERED BY FRENCH LEGISLATION ON COPYRIGHT AND INTELLECTUAL PROPERTY.
ALL RIGHTS RESERVED, INCLUDING DOWNLOADABLE DOCUMENTS AND ICONOGRAPHIC AND PHOTOGRAPHIC REPRESENTATIONS.
/

| | |
| --- | --- |
| | |